A common question we get asked is, "How Much Does Pet Care Cost?" and we're happy to discuss this with you but first, we want you to know that pet care of any type is an investment.
You're investing in us to provide reliable and good service; we're investing in you, your pet(s) and building relationship so we can become your 'go to' when you need pet care help.
Our pet care prices aren't a one-size-fits-all price structure. We have the ability to lower rates and raise rates depending on the service and situation.
Professional Pet Care Cost Is An Investment
Relax, you won't have to take out a second mortgage in order to book services with us – you might need to skip a latte or two but hey, isn't your pet worth it?
People that want the best for their pets will value our services. They'll understand why our rates aren't the same as the kid next door and why they're higher than boarding your dog at most veterinary offices.
*Note: If you think that you can't afford our rates but REALLY need our help, please give us a call. We do have plans in place to help certain individuals on a case-by-case basis. Don't let sticker shock scare you away!

How We Price Our Services

Your pet care cost is based on many things, such as:
Number of pets you have
Pet medication duties or care duties
Condition of our work area
Home and/or safety hazards
Job duties (additional work or cleaning around your house)
Length of time we'll be at your house
Insurance
Drive time
Gas usage
Wear and tear on our vehicles
---
Pet Sitting Prices

Regular Pet Sitting visits start at $20 per visit
VIP Hourly Reservations start at $35 per hour
Kenneled/Crated Cats – Additional 10 minute one-on-one visit is $10
Continue reading to see requirements for outside dogs, crated dogs, kenneled cats and doggie/cat door access.
Outside Dogs and Chained Dogs
Dogs in outside pens, kennels or chained up in a yard require at least one visit daily,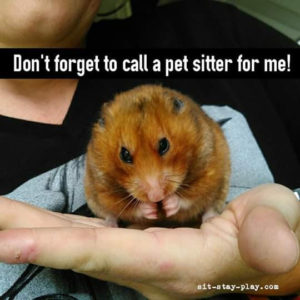 preferably two. This helps us make sure they are safe, that they have adequate food and water and that they get a little human interaction.
Crated Dogs
All crated dogs must be let out of their crates at least three times per day, for at least 30 minutes each time. Your dog needs ample time to run, stretch his legs and interact with his world.
We cannot provide services to individuals that request only two, or even one visit, for their crated dog.
Dogs and Puppies Living In Playpens or X-Pen Areas
We understand new puppies have potty accidents. We ask that if you keep your puppies or dogs in an enclosed area like a playpen or x-pen area, please schedule adequate visits with us. Leaving puppies or dogs in a small, confined area for 12+ areas is inhumane and leads to poor behavior and doggie manners.
We require one visit every 8 hours at the very least. This allows your puppy or dog time to explore his world, play in the grass, play with siblings and spend time with their pet sitter – all great things for positive socialization!
Kenneled Cats
Cats that live in kennels due to breeding requirements or health issues need an additional 10 minute (minimum) one-on-one visit with their sitter. This allows us to make sure they're getting human contact while you're away and for us to make sure they're mentally and physically stable. Additional $10.
Doggie Doors and Cat Doors

We cannot be held responsible for accidents, injuries and disappearances of dogs with unsupervised access to a doggie door. We require at least two visits, morning and evening, for dogs that have unsupervised doggie door access.
Cats with cat door/doggie door access require at least one visit per day, preferably two. The last visit could be bringing kitty inside for the evening, the morning visit would be to open the door so they can go outside.
---
Dog Walking Prices

Potty Breaks start at $15 (10-15 minutes)
Regular Dog Walking starts at $18 (up to 30 min.), 5 visits per week starts at $80 – ($10 discount)
VIP Walking  Starts at $25 (approx. 45 min.)
*We can take two dogs from same household on walks together. If you have more than two dogs, you'll need to book an additional walk OR we can split the time up, whichever you prefer. If you choose this method, both walks will be approximately 13 minutes each.
---
Pet Waste Removal/Poop Scooping Prices*

Weekly Yard Clean-Up starts at $25 for a 2 gallon bucket
$6 each additional bucket
Additional charge for bi-weekly services
The clean up cost is based on size of yard, amount of waste and amount of time we estimate it takes to clean the yard.
Monthly services available as are litter box and cage cleanings.
*Initial clean up fee applies.
---
Pet Taxi Prices



Pick-Up/Drop-Off Services start at $25 each way
If we're waiting for your pet while at the groomer's or veterinarian then an additional rate of $20 per 30 minute wait applies.
Special rate for dogs needing pet taxi services to Happy Dogs, formerly Happy, Clean and Smart. Click here for more info.
Special rates for rescue transportation, adoptions and out of state travel. Please contact us for pricing.
---
Overnight Pet Care Prices



Before we agree to do overnight services, a consultation must be scheduled. This allows us time to go over specifics about this service as well as gives your pet a chance to meet us.
Regular Overnight Services start at $66 per night (8 hours)
VIP Overnight Services start at $90 (10 hours + 1 30 minute pet visit the following day)
---
Visit Hotel Pet Care for pricing
Visit Farm Sitting for pricing
---
The Comfort And Safety Of Your Pet Is Paramount
Happy pets = happy people!
Our goal is to keep your pet happy, healthy and safe while they're in our care. We'll love your pets and provide the best care we possibly can.
Please don't hesitate to give us a call and talk to us about your situation. We're here to help any pet parent who truly loves their pets and want the best pet care. We'll work with you to figure out what we can do to make services with us possible.
Your pet care cost is subject to change at any time based on service requirements. Please confirm pricing at time of booking. Current clients book here. New clients click this link to book your services.
Thanks for visiting!
Kelley Stewart, CEO|Pet Sitter
sit-stay-play In-home pet sitting & more.LLC
Providing professional and customized pet care to Muncie, Yorktown, Chesterfield, Pendleton, New Castle, Anderson, Noblesville, Fishers, Carmel and Indianapolis, Indiana