Does your dog like playing with other dogs?
Does you dog enjoy wearing funny or silly Halloween costumes?
sit-stay-play In-home pet sitting & more.LLC and Fur in Focus Pet Portraits will be hosting a Muncie Howl-O-Ween Spooktacular at Emerson Dog Park on Sunday, October 27 from 12p – 4p and you're invited!
This family fun event will have pet specialty vendors, rescue organizations, animal shelters, local business supporters, giveaways, costume contests and much more. If you have a dog you should definitely get your doggie's Halloween costume ready and make plans to join us. Looking to adopt? This will be a good place to meet dogs that are up for adoption.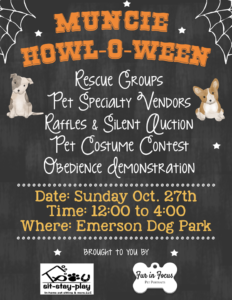 Animal Rescues and Shelters – You're Welcome to Join Us
Animal rescues and shelters, this is a great opportunity to get your dogs in front of an audience of adopters. Plus, it allows you to showcase your shelter, offer volunteer opportunities and let people know what's so great about your organization – and what you need help with. We all know how full most shelters are and how most can benefit from regular donations of pet food, cleaning supplies and monetary donations, so use this opportunity and sign up for a booth.
Sponsors and Vendors Wanted
Local Businesses
sit-stay-play and Fur in Focus would love to have local businesses join us at the fun event. You can set up a table, signage, and products to giveaway.
Non-Profits
Non-profits can set up a booth for only a $5 vendor fee as long the profits go directly to the non-profit (according to Muncie Parks and Recreation). This $5 is used for advertising purposes.
For Profit Businesses
For profit businesses only pay a $30 vending fee. $5 goes for advertising and the remaining portion is sent to Muncie Parks and Recreation.
The deadline to sign up for booth space is September 28. All vendors must be signed up before the event so we have ample time to promote all the goodness you offer.
Booth space is 10'x10′ and vendors will supply their own tables, canopies and chairs.
Want to Donate?
Just want to donate to this event? Contact us at 765-744-5688 and we can arrange a time to pick up your donation.
Suggested items include:
Pet items
Pet food
Pet toys and treats
Leashes
Collars
Pet bowls
Movie and skating passes
Muncie Children's Museum passes
Local restaurant coupons
Gift certificates for local activities (plays, concerts, sports)
Gift cards
Gas cards
All vendors and sponsors that set up or donate items will be mentioned in our advertising, on social media and listed here once we have committments. Feel free to send extra business cards or promo materials we can put in the swag bags!
Swag Bag for First 25 Attendees
As a bonus, sit-stay-play and Fur in Focus will give away 25 swag bags to the first 25 guests. The bag will be full of goodies supplied by our vendors and sponsors.
Halloween Costume Contest
What's a Halloween party without a costume?
We'll have 3 different contests including:
Most Colorful
Most Unique
Best Look Alike (for dog and human)
The Costume Contest will start at 3:00 so the dogs can have plenty of time to play before it's time to get dressed.
Dog Trick Contest
Can your dog do an amazing trick? Enter him in the trick contest! Our judges will pick one lucky winner to receive a prize basket full of goodies for doggy and human.
Contact Us for A Vendor Packet
Want to participate in this event or have questions? Contact either Kelley Stewart at 765-744-5688, Amy Shears at 765-273-4955 or email munciehowloween@gmail.com.
Vendor paperwork can be turned in via email at munciehowloween@gmail.com.
Payment of vendor fee can be sent to furinfocusphotos@gmail.com on PayPal.
Paperwork and payment may be submitted in person Tuesday to Saturday from 11-7 at Muncie Map Co., 111 East Adams, Muncie.
Paperwork and payments must be received by September 28. Vendor applications may be submitted after that on a case-by-case basis.
We want to thank these businesses for being vendors at this event:
Advanced Canine Techniques
Mellia's Sweet Doggy Treats
Fur Baby Gourmet Treats
Thank you,
Kelley Stewart, CEO|Founder
sit-stay-play In-home pet sitting & more.LLC
"Your pet sitting, dog walking, poop scooping specialists!"