Have you tried rollerblading with your dog? If your dog walks good on leash and you'd like to get a little more physical activity (for you and your dog), try blading. Dog moms and dads in the Muncie, Yorktown and Anderson, Indiana areas have another option for getting their dog on the road…you can hire us to blade with your dog! New to blading? Here's some tips from the pros.
What Your Dog Should Know Before Rollerblading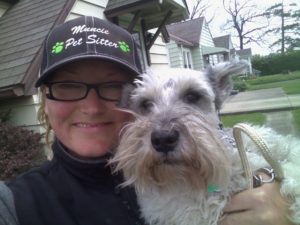 There's particular things your dog should know before you get them with you blading. Here's just a few:
Loose leash walking
Stop/wait command
Leave it
As you can imagine, putting a little speed with this activity can be a scary, especially if your dog wants to pull super fast. And, if your dog wants to stop and sniff everything on the road, or pick up things, this can be disastrous. That's why we suggest the dog knows certain commands before hitting the road.
Other Commands That Will Be Helpful
Other helpful things you can teach them BEFORE you blade with your dog:
Slow
Turn right
Turn left
Turn around
This way/come
Check The Temperature!
Rollerblading is a fantastic activity. It's a great cardiovascular exercise plus it works most of your body, the same goes for your dog. However, pay close attention to their paw pads during and after the exercise. If you notice any cuts, scrapes or pieces of the pad missing, see a veterinarian. Also, pay attention to the temperature of the road. Place the inside part of your wrist on it for 10 seconds. If it's too hot for you to comfortably keep your wrist there, it's too hot for your dog. You'll burn their paw pads and it'll require vet care.
Keep your first session short and give your dog water during and after. Gradually increase your rollerblading time so your dog has time to build up his endurance.
The video below showcases Ruby and her first time experience blading with me. We went about a half mile but she could've gone for a few more I'm pretty sure. Surprisingly, she curled up and went to sleep as soon as I took her home.
We have a spring and summer dog walking special going on right now. Fill out this simple request form and we'll contact you to discuss your needs. If your dog is healthy, knows basic obedience and walks good on leash, we can try blading with your pup or request this specifically if you think your dog would be a good partner.
Happy Blading,
Kelley Stewart, CEO|Pet Sitter
sit-stay-play In-home pet sitting & more.LLC
"Your pet sitting, dog walking, poop scooping specialists!"
P.s. Don't forget your helmet, wrist pads, elbow pads and knee pads. One fall could put you outta commission for a while!