What a gorgeous day! I've been waiting on spring to arrive (and I think the dogs have too). The cold and dreary winter months doesn't do much to motivate me to be outside. However, today was beautiful and I think spring has arrived.
We Walk Dogs in All Kinds of Weather
I walked two dogs in Halteman Village on Muncie's north side and boy did it feel good to have sun on my face and the cool breeze blowing. During the walks I could smell Mexican food being cooked at Puerta Vallarta over on Wheeling and thought that lunch might take place there today 🙂
Dog #1 was just a wee little thing. Petite and shy, she focuses entirely on getting her business done in the quickest time possible. She wants to head back in immediately, no sniffing of trees or marking her yard. But oddly enough, she wanted to stay out longer today! The sun must've felt good on her little body and who knows, maybe she had spring fever as well.
Dog #2 was a huge chocolate lab and loves going on walks – regardless of the weather. Rain and snow doesn't bother him and even the high humidity during summer doesn't keep this guy down.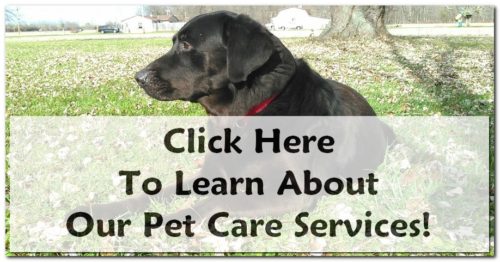 Weather in Indiana is usually a little unpredictable and our dog walkers are prepared for whatever Mother Nature throws our way…however, I'm ready for spring, what about you?
Our dog walkers provide services year round, regardless of weather. Some dogs can't hold their pee all day so be sure to call us if your dog needs a mid-day potty break or an actual walk around your neighborhood.
If your dog has spring fever and needs to burn off that energy, call sit-stay-play In-home pet sitting & more.LLC at 765-744-5688. Their dog walkers will help your canine buddy, rain or shine!
Request pet sitting or dog walking services here.
I've got spring fever,
Kelley Stewart, CEO|Pet Sitter
sit-stay-play In-home pet sitting & more.LLC
"Your pet sitting, dog walking, poop scooping specialists!"