Hoosier Park went to the dogs today!
A dozen or so adoptable canines from Animal Protection League in Anderson, Indiana joined Maleah Stringer to take a lap or two around the horse racing track. Joining Maleah and volunteers from APL were dozens of APL supporters and pet-lovers. Dogs dressed as zombies, pirates, inmates, cow girls, Colts fans and other adorable creations helped make watching the walkers worthy of many photos.
This event was to help raise funds for Animal Protection League and Maleah surpassed her goal of $16,000, actually raising over $57,000 through the silent auction fundraiser, donations and support from Hoosier Park Racing & Casino. She walked 16 miles in just over 4 hours and now has rubber legs and sore feet,  but it was all in good fun!
sit-stay-play wants to help say thank you to the supporters and participants so we're offering a very special gift – one free pet sitting visit ($19 value). Read on to see how you can get the free APL gift. Use this free pet sitting service to take your sweetie for a night on the town. We'll watch the dogs. Schedule a day trip to Bloomington to see the leaves turn colors.  Take an overnight camping trip or visit loved ones you haven't seen for awhile. We'll make sure your pet is happy, healthy and safe at home.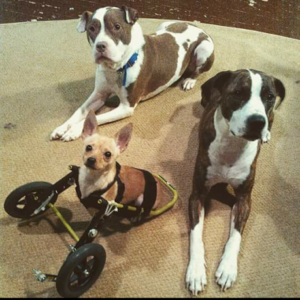 Free APL Gift
To reserve your free pet sitting visit all you need to do is request a consultation and we'll see if we can help the day(s) you need services.
After that, you'll just need to book two or more pet sitting visits and you'll receive one absolutely free. That's our way of saying thanks for supporting the Animal Protection League.
Keep in mind that if you live outside of Muncie city limits we do charge a small travel/gas fee but we can discuss this with you when you set up your consultation.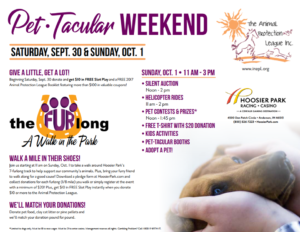 What Type of Pets Do We Care For?
We care for dogs, cats, small caged pets and even farm animals. So if you have a dog or two, a few kitties and maybe a parrot, we have you covered. If you just have one cat or one dog, we can also help.
Why Pet Sitting?
Pet sitting is a great alternative to boarding for many pets because it's less stressful, quieter and convenient for the humans. We come to you so there's no need to take your pet anywhere. This is important if you have an elderly pet or one that can't have routine vaccinations due to health problems.
Another thing people often ask is if we take care of pit bulls. Yes. We absolutely love pitties and will love yours as well. We have a big spot in our hearts for rescued pets and their humans and we'd love to introduce you to our services and help you if we're able.
Pet Nail Trims
If your dog had his or her nails trimmed at our booth, thank you for stopping in. There were several dogs that absolutely hated nail trims but surprisingly, they did great up on our table. We'd love to see those doggies again and help them get more comfortable with this service. Our fear-free method helps dogs relax and eventually they'll let us work without much hesitation. We won't force your pet but will encourage calmness.
Visit us at one of our pet nail trim events at the Tractor Supply stores in Anderson, Muncie, New Castle or Noblesville. See this link for dates. We also make pet nail trim house calls which is purrfect for kitties and dogs that don't ride well in vehicles!
Sonny Roo, the 2-Legged Chihuahua
By popular demand (because so many people loved meeting this little guy)! Here's a video showing Sonny Roo in his wheelchair (three years ago!), this is the one that's way too small for him now unfortunately. Be sure to check out his other videos, especially the ones with the kittens 🙂
Thanks again for going to the Pet-Tacular event at Hoosier Park and supporting APL and visiting Sonny.
Off to walk some dogs,
Kelley Stewart, CEO|Pet Sitter
sit-stay-play In-home pet sitting & more.LLC
"Your pet sitting, dog walking, poop scooping specialists!"
P.s. Don't forget to book your consultation and grab your free APL gift!