Pet parents, we're here to help you make well-informed decisions about hiring a pet care provider and suggest you ask this important question before you hire a pet care giver, "Do you have a car?"
Regardless of who you have come into your home, apartment, condominium, business, hotel room, camper or even tent, we want to give you tips on how to find the best person or company.
An Important Question You Should Ask A Potential Pet Sitter Or Dog Walker
In the video above, I suggest you ask the question, "Do You Have A Car?" to any potential pet sitter, dog walker or pet care provider.
There's many reasons I suggest you ask this question but I'll make the answer as short and to the point as possible: a person should have a car in order to take your pet to the veterinarian if an emergency arises.
Things To Consider…
Will an emergency arise while they're watching your dog or cat? Maybe not.
But what happens if it does?
Will the person you hire have to call a friend to pick them (and your pet) up?
What happens if the person you hire can't find someone…will they call a taxi?
Will they ask if a dog or cat can be in the taxi when they call to schedule the ride? Maybe not. Maybe they're too frazzled and forget to ask.
Having a car should be a non-negotiable in my opinion. I encourage every pet parent to consider the ramifications if they do hire someone without a vehicle.
Real life situations where I needed a car during a pet sitting visit:
#1: Walked into a client's house and the cat was lethargic, with jaundiced gums and eyes. Cat was lifeless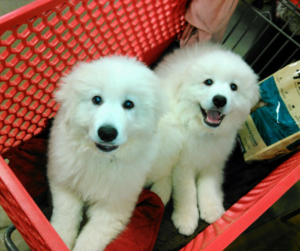 and in a very depressed state. After contact our client, I rushed the kitty to Care Animal Hospital. Kitty was severely dehydrated due to having liver cancer (which was previously undetected).
#2: Arrived a a client's house and one of the dogs was bleeding profusely from the rectum. Dog couldn't walk and I had to carry her to my car after first laying tarps and blankets down to keep the blood from staining my carpet. Dog stayed at Care Animal Hospital for surgery.
#3: Started a new pet sitting job and the furnace went out. Some of the rabbits ended up freezing to death before I started but once I arrived, I rushed baby bunnies to the vet because they were near death.
These are just three examples of where having a car was a necessity. Random things can happen when you're dealing with animals, that's why we suggest a sitter or walker have a vehicle.
Exceptions To Not Having A Car
There's always exceptions. I'm not speaking to the people that live in big cities and rely on public transportation. Most likely, public transit in those cities are accepting of pets being on the subway, in taxi's and on buses, but in my neck of the woods – Muncie, Indiana – that doesn't happen very often.
People who live in those types of places might not have Great Danes and Burmese Mountain Dogs as pets, but here in my city, they do. Getting a Dane or Bermie on a bus or in a taxi or Smart Car might be interesting 🙂
Be A Wise Consumer Of Pet Care Services
Ask questions. Don't just hire the first person you come across.
Do your homework and make sure the person you hire is a good fit for you and most of all, your pet(s). They depend on you for the care and having a person they like is important as well.
If you have any questions feel free to call or email us.
Thank you,
Kelley Stewart, CEO|Pet Sitter
sit-stay-play In-home pet sitting & more.LLC
P.S. Want to schedule pet care services with us? Fill out this short online form and we'll get you started!
P.P.S. See our other topics related to this issue