In this article, 'What Happens To My Dog If I Have A Wreck?' you'll find out how a trucker handled a recent accident and subsequent separation from his dog. Plus, you'll get tips on what you can do if you're ever in a similar situation.
This article isn't meant to scare you. It's designed to prepare you for the what if's and how you can protect yourself and your beloved companion animals.
If You're Riding With A Pet In Your Vehicle, What Would You Do If You Were In A Wreck?
When I left a recent pet nail trim event in New Castle I went down to the Pilot Flying J to pick up a CB antenna and charging adapter so I could start using my newest toy.
Little did I know I'd be in the right place at the right time. This time my vehicle graphics designed and installed by Branden Holder, came in handy – thanks Branden! – because they helped a restless and worried trucker passing through from Ohio find me for help.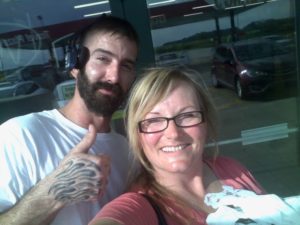 Scary Scenario for Any Pet Parent or Truck Driver
Three hours prior to this happening, the trucker was driving west on I70 and was rear-ended by another trucker as we was getting on the off-ramp. As we stood outside Flying J talking, we looked over and saw the tow truck getting ready to pull off.
The rear end of his truck was smashed in a little but the other truck was severely damaged. The headlights were where the steering wheel should've been! Ouch!!!
Luckily, both men walked away without injury but police and medical personnel had to take them both to the hospital for immediate drug and alcohol testing. This is normal protocol when a big rig is in an accident but scary if you have to leave your dog behind like this guy had to do.
On top of all the chaos, he was told he'd be arrested if he didn't go to the hospital at that exact moment. So after the police allowed him to use his phone to make several quick phone calls he went to the hospital.
Safe At The Shelter
The police told him that his dog would be at the New Castle Animal Shelter and he could pick her up during normal business hours. Since it was a Sunday and the shelter was officially closed, he was upset and worried because she'd have to stay there overnight. On top of that, he left his phone in his truck and wasn't given a phone number or address for the shelter. He was stuck all alone at the truck stop, worried about his job, his dog and how he was going to get her and get home.
Right Place, Right Time
So, flash forward to when he saw my pet-mobile. After a little small talk he asked if I could go pick his dog up from the shelter. I told him he should call first to see if someone was there, since it was Sunday no one answered and it kept going to voicemail. He had left a couple messages but no one returned his call and, understandably so, he was upset.
He went on and on about her being a pit bull and being scared that they'd put her down. I tried to comfort him and say the shelter won't euthanize his dog just because she's a pit bull but he wasn't believing it. He said his dog was extremely friendly, lovable and that she had never slept on the floor, let alone a cold concrete dog kennel. I kept reassuring him and said that I had been to their shelter and it was clean and they'd take care of her.
He asked if I had any connections with the shelter or if I knew who to call, luckily I did. The contact info I gave helped him arrange picking his dog up Sunday versus Monday. After he hung my phone, I finally sensed that he was beginning to relax a little.
Flying J Truck Stop Staff Was Helpful
The cashiers he dealt with at Flying J went above and beyond in how they helped him prior to my arrival and even after I left. Without their willingness to let him use their phone and flag him down when people called him back, I'm not sure how the situation would've turned out. If you work at this truck stop, please share this post with your co-workers and tell them we say thanks.
Mr. Brown, Crete driver from Ohio, here's the article I said I'd write (with your permission). Hope I did it justice and I hope your dog recovered from her detour and you're back surfing the highway 🙂 Feel free to contact me and let me know how things turned out!
I tell his story in hopes that pet parents will begin to think ahead and keep their pets safe while on the road. Additionally, if any law enforcement officials, emergency medical professionals or animal shelter management reads this, I hope you all can see that working together and giving contact names, phone numbers and addresses really helps the person relax. Plus, it gives them necessary information they need to get their pet back.
What Happens To My Dog If I Have A Wreck?
First things first, if you're hurt, you're going to be taken to the hospital more than likely. If you don't have anyone nearby that can pick up your dog, he's probably going to be taken to the nearest animal shelter. Unfortunately some cities don't have animal shelters or even animal control so knowing what to ask, who to ask, what phone numbers and addresses to get, if possible, is crucial.
If you have a pit bull or other dog who is listed in BSL (breed specific legislation) please be careful when you're driving through the states and cities.
Over 700 cities have some form of BSL in place.

DogsBite.org

gives you a state by state list.
Here's What To Do If You're Able
First – Find out where you are.
This might sound silly but if you're driving out in the middle of nowhere and you get into a car accident, you might not know exactly what city you're in or what road you're on, so ask – IMMEDIATELY.
Second – Find out where you pet will be taken to or who will pick him up.
Is it animal control? Get this information – IMMEDIATELY:
Name of animal control agency
Address
Phone number
Contact person
When you can pick up your dog
Write this information down if you can. Put it in your phone if you don't have paper. Have someone write the info down on a business card, anything so you'll have it. Don't leave the scene without getting this information!
Are the police calling someone other than animal control? Get this information – IMMEDIATELY:
Name of police officer that is making the call to the 'unknown' person and a phone number for the police offer
Get the name of the 'unknown' person
Get a phone number for that person
Ask for address, name of building, agency, whatever is appropriate
Are your questions being ignored? Is no one answering you?
If the medical personal, police, firemen, etc. will not talk to you or give you this information above ask to talk to the police chief. Get his name and phone number.
Call the police chief IMMEDIATELY and tell him that you were involved in an motor vehicle accident, the location, the time, the date and that you have a dog (or other pet) and the officers or personnel on the scene will not tell you where your pet is going.
Doing this will get it logged into their recorded system and gives you a little back-up in case it's a he said/she said situation.
Still not satisfied -what else can you do?
Use your cell phone or tablet and send all the information you collected to a friend or relative quickly (or post on your Facebook, see the section below).
Not able to reach  anyone?
Leave the info on a voicemail of a trusted friend and tell them to contact the person/agency about your dog. You can also send a group text to your contacts if you're really worried.
You're the only one who can do this unless another person is with you.
You need to get all the information you can ASAP.
Some cities have strict policies with animals collected after traffic accidents.
We'd hate for your pet to come up missing or be euthanized before help can reach them.
Get on Facebook
Another thing you can do if you're on Facebook is to:
– Post the date and time of accident
– Include the city name, road or highway name
– List all the names, phone numbers and other information you collect and share it.
– Ask for help.
– Give your cell phone number, city name and what hospital/police station you're going to.
By you sharing where you are, who has your dog, the city, the address and the phone number, your friends and relatives can come to your aid and might be able to help your dog if you're unable.
---
Do This Before You Take Your Pet For That Car Ride

1- Microchip your pet! Keep the contact phone numbers and addresses current.

2- Make sure your pet wears a snug collar that has identification tags on it. If your pet has a rabies tag, put that on and possible another tag with your name and phone number.

3- Keep a card in your purse or wallet that has a picture of your pet on it and the microchip number. Have contact phone numbers and any other important information about your pet on the card. List your pet sitter's name as a contact person.

4- Crate your pet. While it's nice to have your dog sit next to you in the seat while you're driving down the highway, if an accident were to happen, he'd probably be safer in a crate.

5- Label the crate. Write this information on an index card, cover it with clear tape and attach it to the top of the crate:

Pet's name
Type of pet he is (cat, dog, etc.)
Description of the pet (color, length of hair, type of hair, eye color, short/long tail, declawed, etc.)
Any behavior/medical issues
List any medication your pet is on
Your name
Your address, city, state, zip code
List your contact phone numbers
Microchip/identification information
Your veterinarian name and contact number

6- Invest in a pet GPS tracker. Several brands are on the market, be sure to shop around and purchase one with the highest ratings and reviews. GPS trackers can be affixed to the dog's collar if the product isn't designed to work with their own collar. Not all GPS systems are 100% accurate. We encourage you to utilize microchip technology and make sure your dog is wearing an identification tag at all times.
---
In Conclusion
Is all this preparation overkill? Some people might think so but we don't.
Imagine your pet is thrown from your vehicle and remains in the crate. A good Samaritan can hopefully contact you or take your pet to the nearest veterinarian or animal shelter. A microchip or GPS tracker are just two other ways to ensure a happy reunion.
Added Bonus
If you have your crate labeled with all the necessary info, have a back-up supply of pet food and supplies, then you're ready in case you need to leave your house (or vehicle) quickly because of fires, natural disasters or a zombie apocalypse.
Be safe, keep on rollin' 4-wheelers, 2-wheelers and everything in between,
Kelley Stewart, CEO|Pet Sitter
sit-stay-play In-home pet sitting & more.LLC
P.S. Here's the Facebook page to the Flying J truck stop in Spiceland, IN (just outside New Castle) and the website link. The cashiers at Flying J let Mr. Brown make numerous phone calls so he could get help with finding his dog. Keep up the good work guys!
P.P.S. We're here to help if you get into an accident within a 2 hour radius of Muncie, Indiana. We can pick up your pet if you contact us and we'll discuss payment at that time. Call us at 765-744-5688.