New Pet Care Clients Read This First
New pet care clients, welcome to the sit-stay-play website! We want to make scheduling pet care services in Muncie, Anderson and Indianapolis simple and easy. This page is designed to give you a quick run-down of our booking process and we ask all new pet care clients read this first. Please schedule services AFTER you've researched our company and decided we're a good fit for you and your pets.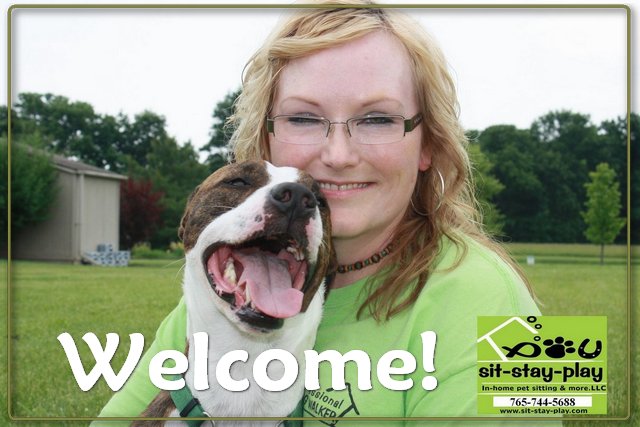 Preface…
Let me start by saying that I started this business in 2008, on my own. I wanted to spend my life helping people and working with animals. What a great experience it's been!
We strive to make things as transparent and easy for you as a client and we understand you might have concerns about welcoming a stranger into your home. However, our policies and practices will hopefully ease your mind. We want you to trust us to do what we do best.
New Pet Care Clients – Areas We Serve
Our services are available in Muncie, Yorktown, Fortville, New Castle, Anderson, Pendleton, Daleville and Yorktown. Areas near Indianapolis, like Noblesville, Fishers, Morse Lake, Carmel and Brownsburg are also places we provide services. If your town is close to one of these cities, please contact us to set up services.
New Pet Care Clients – How Our Pet Care Service Work
Depending on the type of service you're booking with us, we might need preliminary pet care forms prior to setting up services. These online forms are simple to complete and gives us important information so we can quickly determine if we can provide what you request.
We want you and your pet(s) to have the best experience possible when using sit-stay-play and by completing these forms, you'll have a head start on making that possible!
New Pet Care clients – This Is My Profession, My Business, My Livelihood
I, as well as my experienced and dedicated team members, take caring for your pets seriously. We'll take care of your home while we're in it. We'll treat your pets like they're our own; with respect and kindness.
Your animals and pets depend on you, and us, if we decide this is a mutually benefiting pet care arrangement. We'll do everything in our power to ensure your pets and animals are well-cared for while in our care. Before we get to that point, we've compiled the important information you should read and know about before proceeding forward.
Getting Started With Sit-Stay-Play
In order for you to know what's going on and how things work when you book your services with us, I've outlined the process below. This isn't 100% set in stone for every single pet care job we accept, i.e. emergencies or very last-minute visits, but for the most part, this is what you can expect:
Step #1: This is the first step! I ask our potential clients to read through this page to get a feel for our services. This also gives potential clients the opportunity to see how I view my profession and to see the commitment we have to our clients.
Step #2: Watch the short video that's posted below. You can put a face with the business and learn about the forms you'll fill out. Note: These forms aren't needed for EVERY service we offer but most do apply.
Step #3: After you've watched the short video, click on this link to book services.
Step #4: Once we receive your preliminary forms we'll contact you to discuss your service request. At that time we'll also set up a free in-home consultation prior to confirming services.
Step #5: At the consultation we'll meet your pet(s), finish paperwork, collect two house keys, schedule services and collect complete payment. Then, the most important part – you can RELAX!
We'll take care of your pet(s) according to the schedule we discuss during your consultation. We can provide periodic updates during your trip if you'd like.
One last thing, I do have Visit Requirements and want to be upfront about my beliefs and policies. Please read through the Visit Requirement page before contacting us for services.
I'm the type of pet sitter who wants our client dogs to be happy, safe and comfortable, whether they're on the couch watching TV or laying in their crate in between our visits.
I want our kitty clients to have access to a clean litter box and adequate food and water at all times.
Our outside doggy clients shouldn't feel forgotten about so we'll play with them and give them extra attention.
I understand that my beliefs and policies about basic pet care requirements might not line up to the level of care you're looking for, and that's fine. We want you to feel comfortable and confidant about your choice to use sit-stay-play.
Click this link to see our pet care prices.
Thanks again for stopping by and we look forward to meeting you!
Kelley Stewart, CEO|Pet Sitter
sit-stay-play In-home pet sitting & more.LLC