New pet care clients, are you looking to get started with pet care or farm sitting services in Muncie, Yorktown or Anderson, Indiana? We can help! Scroll to the form at the bottom to request services.
New pet care clients are always welcome to try and services and we strive to keep you and your pet happy so you continue being clients.
We want to make scheduling pet care services in Muncie, Anderson and Indianapolis simple and easy. This page is designed to give you a quick run-down of our booking process and we ask all new pet care clients read this first. Please request pet care services AFTER you've researched our company. Being a good fit for you and your pet is important.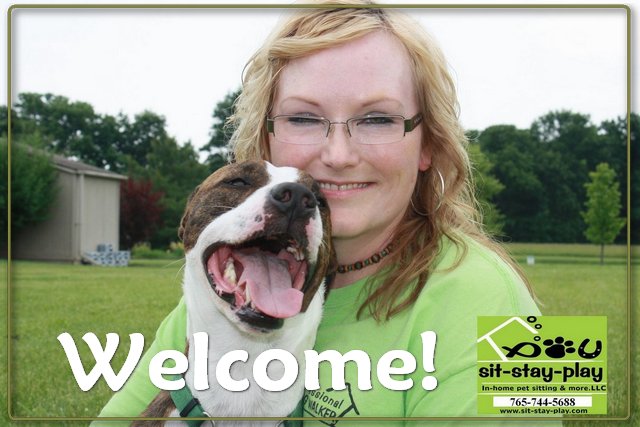 First Things First – Welcome!
Let me start by saying WELCOME. We know you have a lot of options for pet care and we appreciate you choosing us. Our goal is to provide great pet care services that will make your life easier and make your pet happy.
Here's some benefits to using sit-stay-play:
Your dog or cat can stay in the comfort of their own home when you use our services;
There's no trips away from home unless  there's an emergency or you book an extended outing to a dog park or dog walking service; and
Your pet isn't exposed to other animals, unfamiliar sounds and strange environments. This reduces their stress level.
Farmers and Hobby Farmers Can Benefit, Too!
Farmers and those with backyard chickens can also benefit from our services. We can muck stalls, put out feed, bring animals in from pasture and loads of other farm chores. Contact us at 765-744-5688 if you'd like to talk about our farm sitting services.
I, as well as all the independent contractors I use, strive to make our pet care services the best solution for you. Our policies and procedures should be transparent and easy for you to understand. New clients may have concerns about welcoming a stranger into their home, however, our policies and practices will hopefully ease your mind. We want you to trust us to do what we do best.
New Pet Care Clients – Areas We Serve
Our services are available in Muncie, Yorktown, Fortville, New Castle, Anderson, Pendleton, Daleville and Yorktown. Areas near Indianapolis, like Noblesville, Fishers or Morse Lake are also places we can provide services. If your town is close to one of these cities, please contact us to set up services.
New Pet Care Clients – How Our Pet Care Service Work
First, you request our pet care services by using the form below or by calling us.
Second, you'll receive an email from me outlining important items you should know and then we set a consultation.
Prior to the consultation we'll chat on the phone so we can have more time to see if our services will be a good fit for you and your pet(s).
Then I come to your home, complete pet care forms, get two house keys and payment, then schedule your services. Services aren't booked or confirmed until the consultation is completed, house keys are retrieved and payment is received.
Getting Started and Visit Requirements
New pet care clients, we'll take care of your pet according to the schedule we discuss during your consultation. We can provide periodic updates so you can stay informed on how your pet is doing.
In order for your pet to be as comfortable as possible while you're away, we have visit requirements. This helps to make sure your crated dog gets enough time outside to potty, for instance. Please read through the Visit Requirement page before contacting us for services. While some people may feel that a dog only needs to go outside to potty once per day; we do not and have requirements so pets aren't neglected while they're in our care.
Click this link to see our pet care prices.
Thanks again for stopping by and we look forward to meeting you!
Kelley Stewart, CEO|Pet Sitter
sit-stay-play In-home pet sitting & more.LLC
P.S. Did you know we offer house calls for pet nail trims? House calls start at $15 for the Muncie area. Also, check out our list of low-cost pet nail trim dates. 2018 dates will be listed soon. We host events at Tractor Supply stores and Pet Valu Pet Store in Anderson, Indiana.
P.P.S. Ready to get started? Fill out the form below and we'll email you back to start the process.
[wpforms id="5628″ title="false" description="false"]