Welcome! Thanks for considering us for your pet care services. This video, Virtual Consultation For Pet Sitting Services, explains our pet care forms, why the forms are needed and what we do with the information once we have it.
New Clients, Watch This Virtual Consultation So You Can Be Prepared For Your In-Home Visit
So I've Watched The Video, Now What?
Once you've watched this video and decide to hire us as your pet care provider, click this link to fill our your initial service request. Once I receive your form I'll contact you to discuss your needs and schedule your consultation. At that time I'll send you the forms that you just learned about, you'll print them off and contact me.
It's Consultation Time!
You might be a little nervous and not know what to expect when I arrive at your home for the consultation. That's understandable and all of our clients have been in your shoes before.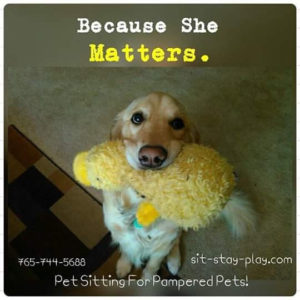 A bit of advice I can give is to just relax.
If you watched the Virtual Consultation video you'll know what forms we'll go over and you'll recognize me, Kelley Stewart.
Another thing, if you have really hyper dogs, maybe you can let them have a little extra playtime before I arrive. If your kitties are shy and hide when visitors arrive, maybe shut the doors to the rooms they hide in. Or better, put them in a room where you can have access to them. It's really nice if I can see the pets face-to-face so they can smell me and so everyone is comfortable with each other.
Other than that, just be ready to have about 30 minutes blocked off, have 2 working house keys ready to loan us and your payment. If you're not sure how much your pet care services will cost, just ask prior to the consultation. I can give you a ball park figure and we can narrow it down during the consult if you need an exact figure.
I mention in the video that I need to do a walk through of your home. This is important!
Home Tip
If your circuit breaker or other important items for your home are in your basement or garage, I'll need to see them. It doesn't matter how dark, musty or cluttered they may be, but I need to actually see the areas.
Not sure what condition your basement or garage is in? What a perfect time to find out 🙂
My suggestion is to look first and make sure we can walk through. That way the spiders and other creatures that love dark places have plenty of time to run and hide before we get there.
Are you ready to book pet sitting services? Super! We're ready to talk to you.
Cities We Work In
Our pet care providers are available in Muncie, Yorktown, Albany, Hartford City, Upland, Gaston, New Castle, Pendleton, Fishers, Carmel, Noblesville and Indianapolis, Indiana and most areas in between. Don't see your city listed? Contact us and we'll let you know if we can offer services in your town.
Best,
Kelley Stewart, CEO|Pet Sitter
sit-stay-play In-home pet sitting & more.LLC
P.S. Summer vacation pet care spots are filling up fast, book now!