Our low-cost pet nail trim events in Muncie, New Castle and Anderson, Indiana are great for people like you that want a consistent and affordable pet nail trim service.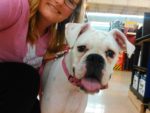 Customers can bring their friendly and healthy pets to any of our low-cost pet nail trims at the Tractor Supply locations in Muncie, New Castle and Anderson. You can also find us at Pet Valu in Anderson.
Dates and times for our low-cost pet nail trim events are listed below. In the event of inclement weather, we suggest you call us at 765-744-5688 to confirm that we're hosting the event.
House Calls
We also make house calls! If you can't bring your pet to us, we'll come to you. Click here to request this service. House calls start at $15 for the first pet, discounts may be given for multiple pet households.
Unused Pet Items?
We're here to help pets and their people. If you have unused pet items like leashes, collars, toys, pet food, pet clothing or pet medical products, bring them. We'll donate them and make sure they go to go use.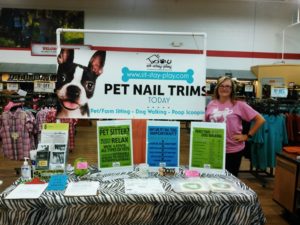 ---
Low-Cost Pet Nail Trim Events At Pet Value – $10 Per Pet ($15 for grinding and trimming)
Address: 1835 N. Scatterfield Rd., Anderson, IN 46012 Phone 765-393-2413
Times: 5:00 – 7:00pm
Dates: Tuesday, April 17
1st and 3rd Tuesday each month
10% of all proceeds go to Ernie's Heart Pet Food Pantry. Support us and together, we support them.
Dog Wash and Pet Nail Trim Fundraiser
Saturday, January 27
12:00p-3:00pm
$10 Dog Wash and $10 pet nail trims
Cash only
---
Muncie Tractor Supply Pet Nail Trim Events – $7.00 Per Pet
Address: 3601 W. McGalliard Rd., Muncie, IN 47303
Times: 3:30pm – 5:00pm
Dates:
See the pictures from our December 9, 2017 Santa event here.
---
New Castle Tractor Supply – $7.00 Per Pet
Address: 3000 S Memorial Dr, New Castle, IN  765-521-2610
Times:  3:30-5pm
Dates:    Sunday, April 22
See pictures from our Dec. 10, 2017 Santa event here.
---
Anderson Tractor Supply – $7.00 Per Pet
Address: 6818 S. Scatterfield Rd, Anderson, IN  765-779-0044

Times:  1:00-2:30pm
Dates:    Sunday, Feb. 11, 2018
Give Back
As our ongoing pledge to help pets in our communities, we're asking you to bring in pet food and/or supplies for the homeless pets at Animal Protection League. At each one of our Pictures with Santa events we've collected pet supplies for local shelters and this time, we're donating to our Anderson community.
---
Side Effects of Overgrown Pet Nails
Discomfort.
Pain.
Deformity.
Uneven walking gait and poor posture. (If your feet hurt, you walk funny, right? Dogs are the same way.)
Nails dig into the paw pads.
Nail get caught and/or snagged on blankets, hair, etc. causing more injury and pain.
Overgrown pet nails can cause arthritis, hip dysplasia and other body ailments to be exacerbated needlessly.
**Having a pet means you'll be responsible for his or her well-being, and pet nail trims are just one aspect of being a responsible pet parent. If you need assistance with pet nail trims and you can't bring your dog (or other pet) to us, we make house calls. Contact us at 765-744-5688.**
Thank you,
Kelley Stewart, CEO|Pet Sitter
sit-stay-play In-home pet sitting & more.LLC
Serving Muncie, Anderson and Indianapolis, Indiana and most surrounding cities.
P.s. Check out this article, Root Canal or Trim The Dog's Nails?