Our low-cost pet nail trim events in Muncie, New Castle and Anderson, Indiana are great for people like you that want a consistent and affordable pet nail trim service. And now, we offer FREE nail trims for people over 55!
Want to know who does these nail trims? Watch this short (impromptu) video with one of our nail clients at one of our events at Anderson Tractor Supply…it's a little off-the-cuff but it's real 🙂
Customers can bring their friendly and healthy pets to any of our low-cost pet nail trims at the Tractor Supply locations in Muncie, New Castle and Anderson. 10% from our nail trims is donated to Boston's Fund at Northwood Animal Hospital. This fund provides financial assistance for emergency veterinary services.
Dates and times for our low-cost pet nail trim events are listed below.
In the event of inclement weather, we suggest you call us at 765-744-5688 to confirm that we're having the event. Anytime there's a weather emergency and schools and local businesses are closed, our events will be cancelled.
Also, we encourage you to check this page frequently, especially near the holidays.
For 2019, you can get FREE pet nail trims! It's easy…all you need to do is take a selfie of you, your pet and Kelley at an event, post it publicly on Facebook, and tag it with #sspnails. We'll send a Facebook message with a free coupon.
Payment Method
We accept cash, check (with government approved ID), Chase quick pay and PayPal  – if you pay via PayPal or Chase quick pay, let me know so I can check to be sure it was received. Payment must be received before we can start your pet nail trim.
Seniors Over 55 Get Free Pet Nail Trims
People over 55 can bring their pets to the Muncie Delaware County Senior Citizen Center and get their nails done at no charge. We host these events four times a year – weather permitting. Our next event is set for Wednesday, September 23 from 10am – 12pm.
Seniors can also come to any of our Tractor Supply events (must show ID). This initiative is part of our philanthropy efforts and highlights our mission to help people (and pets) in need.
Nail Trim House Calls 
We also make house calls! If you can't bring your pet to us, we'll come to you. Click here to request this service.
House calls start at $15 for the first pet, $5 each additional. Discounts may be given for multiple pet households.
Unused Pet Items?
We're here to help pets and their people. If you have unused pet items like leashes, collars, toys, pet food, pet clothing or pet medical products, bring them to any of our events.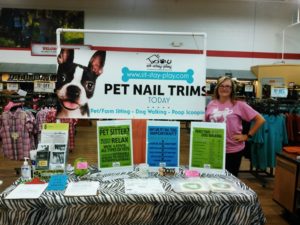 ---
10% of all proceeds from our nail events is donated to Boston's Fund at VCA Northwood Animal Hospital in Anderson, IN. Click here to read about Northwood Animal Hospital.
---
Muncie Tractor Supply Pet Nail Trim Events
Address: 3601 W. McGalliard Rd., Muncie, IN 47303
Times: 3:30p – 5p
Dates:

 
---
New Castle Tractor Supply
Address: 3000 S Memorial Dr, New Castle, IN  765-521-2610
Times:
Dates:
---
Anderson Tractor Supply 
Address: 6818 S. Scatterfield Rd, Anderson, IN  765-779-0044

Times: 1-3pm
Dates:

Sunday, Sept. 15
---
Muncie Delaware County Senior Citizen's Center
2517 W. 8th Street, Muncie, IN 765-289-0844
Time: 10a-12p
Dates:
Wednesday, Oct. 23 and Friday, Dec. 13 (Christmas Party and Nail Trims)
---
Side Effects of Overgrown Pet Nails
Discomfort.
Pain.
Deformity.
Long nails can cause uneven gait and poor posture. (If your feet hurt, you walk funny, right? Dogs are the same way.)
Nails can grow into the paw pads on both dogs and cats.
Nails get caught and/or snagged on blankets, hair, etc. which cause more injury and pain.
Overgrown pet nails will cause arthritis, hip dysplasia and other body ailments to hurt worse.
**Having a pet means you'll be responsible for his or her well-being, and pet nail trims are just one aspect of being a responsible pet parent. If you need assistance with pet nail trims and you can't bring your dog (or other pet) to us, we make house calls. Contact us at 765-744-5688.**
Thank you,
Kelley Stewart, CEO|Pet Sitter
sit-stay-play In-home pet sitting & more.LLC
Serving Muncie, Anderson and Indianapolis, Indiana and most surrounding cities.
P.S. Check out this article, Root Canal or Trim The Dog's Nails?
P.P.S. Your donations at these events will help pet parents that need help with emergency vet care. Boston's Fund was created to help people that need financial assistance; your donations can help save lives!