Want to board your dog with an individual versus taking them to a kennel? Please continue reading because we offer valuable information that could save your pet's life.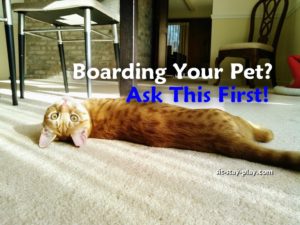 We're the biggest advocates of professional pet sitting but we also are realists and know some people prefer to have someone board their dog in their home (or take them to a kennel). This article is designed to give you some food for thought and help you navigate the waters and find a reputable and knowledgeable person to board you dog. There are great pet boarders and there are ones that aren't so great.
Reasons A Dog Might Need To Be Boarded
Below are some examples of why a dog might do better in a boarding environment, however, if your dog exhibits some of these behaviors with you, most likely he'll do them in a home boarding situation as well and could lead to problems. (Side note: with proper training, desensitization and behavior modification, many of these things can be eliminated or decreased. Contact us for more information.) Also, if your dog exhibits these behaviors a reputable home boarder might not want to bring your dog into their home, so a kennel or boarding facility might be an option.
Separation anxiety
Destructive chewing
Habitual marking
Incessant barking
Self-harm
Food and/or water gorging/restriction
Medical issues
Aggression or unpredictability with other pets (and people)
Also, it's not just the pets that can do better with boarding or kenneling; sometimes it's the humans that do better! We understand that some dog owners get nervous thinking about a stranger in their home. In that case, a boarding situation or kennel stay is the only option. However, before you just let someone keep your dog (cat, or other pet) in THEIR home, we have a a list of questions you should ask and things you should consider.
In the video below, I highlight one question in particular because it's a doozy. Especially if you have a dog (or cat) that doesn't like other animals. Asking this question could save your pet's life.
Other Questions To Ask A Potential Pet Boarder
You might like you're intruding when you ask the questions below but if you think about it, you wouldn't just trust a new baby sitter with your child so why would you just trust Joe Blow you found on Craigslist?
Imagine your pet meeting someone new and being forced to live with them temporarily. They'll be scared more than likely but if you can meet the person and actually see where your pet will be staying, you'll feel better which in turn will help your pet relax.
While you're going down this list, can you think of answers that would automatically make you feel uncomfortable?
How did you get into this business?
How long have you been boarding pets in your home?
Do you have pets of your own?
What veterinarian do you use?
Do you have a car in case there's an emergency and you have to take my pet to the vet?
If it's an apartment, ask if they have permission from the landlord to board pets and if so, what's the limit?
Are there any subdivision, municipality or homeowner association rules prohibiting boarding of pets?
Do you have your own insurance policy?
Do I need to bring my own dog crate or do you have one? Is it the right size for my dog?
Do you have an official pet care business or are you working under a company like Rover or DogVacay?
Do you have a website or Facebook page?
Can I call a couple of your past clients for references?
Where will my dog will go outside to potty?
If they're boarding your cat, how often will the scoop the litter box and feel your kitty?
We're Half-way Through, Don't Forget These Important Questions As Well!
How often will my dog be allowed to go outside to potty?
How will you handle it if my dog (or cat) has accidents in your home?
What type of cleaning products do you use to clean up pet messes?
Do I have to provide my own pet food or do you supply it?
Do you have roommates?
Will my pet be restricted to a room by himself or free in the house with you?
Where will my pet be while you're not at home?
How long are you typically gone for at one time?
What happens if something happens to you while you're watching my pet? Do you have a back-up plan? Do you have people that can take care of my pet?
Can I see where my pet will spend the majority of their time?
What if I come back early, do you have a cancellation policy?
What are your fees?
Do you have visitors often? If so, how will you keep my pet inside? What would happen if escaped?
Boarding your dog or kitty doesn't have to be a scary thing. However, not knowing the answers to the important questions I listed above, you really have no idea who will be keeping your pet. That's why I suggest asking these questions so you get comfortable before dropping your pet off at this stranger's house.
If you decide not to kennel or board your pet, pet sitting is a great option. We also offer overnight pet sitting for pets that require a little extra TLC while their parents are away.
Visit this link to get started with us.
Be safe,
Kelley Stewart, CEO|Pet Sitter
sit-stay-play In-home pet sitting & more.LLC
"Your pet sitting, dog walking, poop scooping specialists!"