Frozen Pit Bull Found, Another In Bad Shape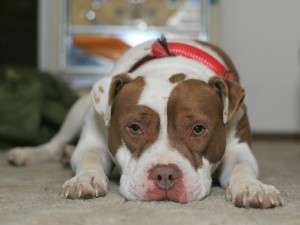 The world can be a cruel place for dogs, especially pit bulls.
Thank you to the utility worker who didn't turn a blind eye and ignore the two dogs he saw while working on Highland Street in Muncie, Indiana. That good samaritan needs to be rewarded for reporting what he saw. His quick thinking led to Katniss, the surviving dog, to get the help she desperately needed.
Thank you to Muncie Animal Shelter for taking these two pit bulls in and providing much-needed care for the one, and acknowledgment of the other by giving her a name, Tris, and performing a necropsy on her.
It's really unfortunate that these two beautiful dogs suffered such tragedy in that backyard, left to starve and die…
Please, if you see a pit bull or any dog left alone for long periods of time, contact your local animal control or police dispatch.
You'll need to give the address of the location and exactly what you see. If you see animal abuse, tell them exactly what you've seen. If you're concerned for your safety if you report it, tell the officer you speak to your concern and they'll make your complaint anonymous.
If you see a dog in a backyard (front yard) who is skinny, without food, water or shelter, call animal control immediately. Please don't wait and think someone else will do it. You be the angel for that dog!
If you know your neighbors neglect their dog, call animal control. Animal abuse happens everywhere. In small towns, suburbs and large cities. Again, don't wait. You might be the only chance that dog has to survive.
If you're a FedEx worker, a UPS driver or a utility worker, please keep an eye out for animals (and kids) in danger, you could save a life!
Again, thank you to the people have helped with Katniss, the surviving pit bull. She needs a foster or adopter, has a sweet personality and gets along with other dogs. If you'd like to learn more about her, please call the Muncie Animal Shelter at 765-747-4851.
Kelley Stewart, CEO | Pet Sitter
sit-stay-play In-home pet sitting & more.LLC
P.S. We're pit bull advocates here at sit-stay-play and believe that all dogs should be given the chance at a healthy, happy and productive life. If you're afraid to report neighborhood backyard breeders or people who are abusing dogs, cats (or children), please contact us at this link.
P.P.S. Do you love pitties? These are OUR favorite pit bull sites, check em' out!
Providing pet care services in Muncie, Anderson, Noblesville, Fishers, Carmel, Indianapolis and Brownsburg
#PetSitting #DogWalking #PoopScooping