Want to know what clients think about our pet care services? Read these reviews!
As new ones are written we'll add them to the bottom of the list. If YOU'RE a client and want to submit your REVIEW of us, we'd love that…just send it via this link, via our Google+ review page, our Angie's List review page or our Yelp business page.
sit-stay-play did a great job taking care of my dog during my last business trip. I had very short notice and could not use my usual boarder. I contacted Kelley and she was able to accommodate my schedule. She did what she promised and the rates are very reasonable. I highly recommend!! –Steve (Review on Yahoo Local)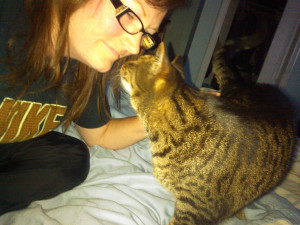 When I moved to Muncie with my two cats, I didn't know anyone and I was desperate for a trustworthy pet sitter. I have a special needs kitty who requires medication and lots of care. I met with Kelley and was immediately relieved and impressed with her compassion, professionalism, and attention to detail. Since that time, I have relied on Kelley several times for pet sitting services. I am able to leave my cats (and home) in her care and not have to worry about anything while I am away. She treats my kitties with patience, care, and respect. She communicates with me on a regular basis while I am away. I know she spends a great deal of time with my cats because upon my return, they are always content, fed, and have clean litter. I would highly recommend Kelley to anyone who is looking for pet care. She is not only a responsible and organized business-woman, but a kind and compassionate person. This is what makes her excellent at what she does. –Mindy M.
I have a newer car with leather seats and I always call Kelley for her pet taxi services when my dogs need to go to Parker Veterinarian. She's great with Roscoe and Lucky and I'm grateful I found her! –Brenda B., Roscoe and Lucky
We appreciate all you do for our critters! Love ya! –Kathy and the Gang
I am writing to share my experience with Kelley, the owner of sit-stay-play. She has given exceptional care to our animals during our travels for the past two years. Kelley is trustworthy and will love your animals as she does her own.
Kelley has always been available when we have needed her. She is prompt and very professional. She was very thorough in getting to know us, our property and our animals. We have wide variety of animals; dogs, cats, miniature donkeys, alpacas, cows, a potbelly pig, chickens and sheep. Nothing fazes her, and she takes it all in stride!
She is an excellent communicator, often calling to update us on happenings on our farm or to ask questions regarding odd animal behavior.
Kelley's a godsend. She helped me in my time of need and I highly recommend her services. She definitely loves all of my animals! I recently called her to notify her that we had a new baby miniature donkey and she came that very day to welcome our new arrival! –Jacque C.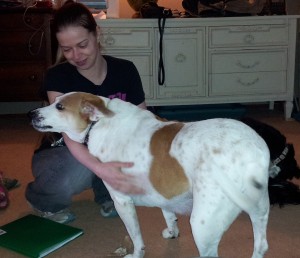 I have used sit-stay-play's services for many years. I currently have 10 Dogs and they are a big responsibility. Our pets consist of Great Danes, Boxers, Lab mixes and a Pit Bull. We travel a lot for business and really need someone we can count on to care for our animals. Kelley has always administrated medications as needed, provided the dogs with lots of play time outside, cleaned up the yard when it is requested and has given us the confidence that we can leave our home and know that our animals will get the care they need in our absence. sit-stay-play has also been able to provide their services with little notice when an emergency has arrived. I recommend sit-stay-play to all my friends and family. –Kim W., Dainty, Kash, Karrie, Sully, Maxie, Angelica, Bubba, Gump, Fatty and the pups
I recently moved to Muncie from Indianapolis and needed someone to walk my dog a couple days a week. I found Kelley's website and called her. She's great! My dog is happy and I'm pleased with the services she's providing. –The Thomas'
Very professional and trustworthy. I was away from home for a week on vacation and in the past had used a boarder for my beagle. I decided to try Sit-Stay-Play and was not disappointed. My dog was cared for as promised, she even collected my mail and newspaper! The in home pet sitting was less expensive that using the boarder. I highly recommend and will use this pet sitter in the future. –Ken L
These clients all trust our team of pet care providers to be in their home taking care of their pet(s). If you're thinking about trying our services out we want you to feel completely comfortable with our policies, our reviews, the way we do business and how we interact with your pet(s).
Ready to set up services?
Thank you,
Kelley Stewart, CEO|Pet Sitter
sit-stay-play In-home pet sitting & more.LLC
"Your pet sitting, dog walking, poop scooping specialists!"