Read these helpful tips if you'd like to SUP (stand-up paddle board), kayak or canoe with a dog.
Who says people are the only ones who get to enjoy water sports? We don't here at sit-stay-play and believe most things, including water sports, can be more fun with a dog. Before you hop on a board, take some time to learn the mechanics of the SUP (stand-up paddle board), kayak or canoe. It's a little different when you have dog with you!
Basic Obedience Is Super Important On Land AND In Water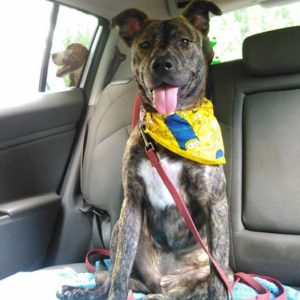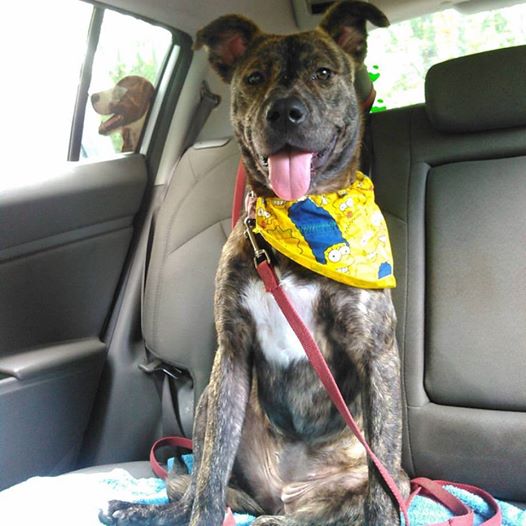 Your dog should know these commands "sit," "stay," "come," and "down." Safety on the water is crucial. Your dog has to be able to be calm and to listen to you when you're on a SUP, kayak or canoe.
Swimming – Yay or Nay?
First and foremost you should know if your dog likes water and if he's comfortable swimming. Start your dog off early with water exploration and you'll have a water dog in no time.
If Fido runs as soon as you get near a river, lake or ocean then you need to start desensitizing him to water, but that's another article, for the sake of the topic at hand, we're going to assume your dog does like water and is comfortable swimming.
Floppy Fish or Mermaid?
While it is true all dogs can swim, some are a bit more comfortable and agile in the water. All breeds, ages and sizes of dogs can SUP, kayak and even canoe, but their size and weight might determine what kind of watercraft will work best. Teeny Chihuahuas and even 135 lb Great Danes can have fun doing water sports but making sure they're comfortable and introduced to the equipment correctly is paramount.
Life Jacket Is A Must for You AND Fido
Assuming your dog is cool with water, the next tip is to get a high-quality life jacket. Put it on your dog and let him wear it around the house then take a toy and hit the water. Make it a fun time and never, ever force your dog to swim or stay in the water if he's scared, if you do, you'll ruin it and neither one of you will have a good time. The handle on top is there so you can assist your dog, use it if your dog needs help getting back in the kayak or canoe or on the board.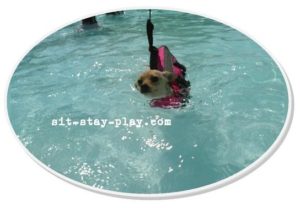 Get Comfortable With The SUP, Kayak Or Canoe – On Land First
If you're renting a SUP, kayak or canoe we suggest you introduce your dog to it on land first. Place the watercraft on the beach or loading area first and let your dog smell it and walk around it.
Once he seems comfortable coax him to place his paws on it, then walk over it.
After he's walked over it a few times, have him actually stand on it. If it's a SUP, it will be pretty stable on land, but if it's a kayak or canoe, it will wobble when your dog gets in it.
Reassure your dog that everything is fine and encourage exploration.
Slowly take the SUP, kayak or canoe in shallow water and again, let your dog investigate. By this time, you can have your dog in the water with you just swimming a little and relaxing. Keep a dog toy handy and toss it out every so often. This will get your dog used to hopping in and retrieving his toy, which builds his confidence.
Once you're ready to start, take the watercraft back to shore and if you're on a SUP, you can get on your knees, keep your paddle in hand and encourage your dog to hop on with you. Float around a little in the shallow water then when he's comfortable slowly stand up. We recommend staying close to shore until your dog totally relaxes. If you fall off, laugh it off, don't panic. Both of you will have life jackets on so just call your dog back over and you hop on then get them back up on it. Use the handle on the back of the life jacket if your dog has problems getting back on it.
Kayakers and Canoers
For kayakers and canoers, do the same thing. Start off on land, get your dog in the kayak with you, have him sit while you're sitting in it then push off into shallow water. Once he's comfortable, paddle out. If you tip over it'll be a little difficult getting back in and you'll probably have to help your dog, but as long as you don't panic, you'll be ok.
What Happens If You Can't Get Back On Your SUP Or In Your Kayak Or Canoe?
If you've tried getting back on your board or in the kayak or canoe and just can't, you can lift your dog up by the handle that's on the back. You can float and swim back to shore. Since you both have life jackets on, you'll be fine as long as you don't panic. We keep coming back to not panicking because it's easy to get scared when you're away from shore, alone, with just your dog. That's why we recommend staying close to shore, until you're comfortable, then set sail and explore.
Things To Watch For In The Water
Saggy butt: When dogs are swimming correctly, their spine and the top of their butt is visible in the water. If you notice your dog's butt disappearing in the water, he's getting a saggy butt. He's tired and needs a break from swimming. Stay away from saggy butts!
Line tangles: If you have a long line on your dog, please please please keep it visible. Don't let it dangle in the water, far away from you because it could get snagged on things under the water that you can't see, like rocks or sticks. This could be disastrous if not unsnagged in time.
Water snakes: If you see a water snake, get your dog away from it ASAP. If either one of you get bit, get to shore quickly or yell for help.
Algae blooms: If there's large amounts of algae in the water, DO NOT let your dog drink it or get in it. Certain types of algae can make your dog sick, causing diarrhea and vomiting. If you notice your dog seems lethargic, starts vomiting or getting diarrhea soon after your water adventure, contact your veterinarian and tell them what body of water you were in and that your dog drank water/algae. If you don't act quick your dog could get sick fast.
Other water enthusiasts: Depending on where you are, there could be rowers present and if you float into their lane they might not be able to move quick enough to avoid a collision.
Water depth: Ask how deep the water is before you go out. If you have any type of hesitation in being in 30 foot deep water, there's no shame in that. Just stay closer to shore, within yelling distance J One thing, small local rivers or lakes might be a good choice to start with to build up your confidence.
Final Tips
Keep Valuables Dry: Purchase high-quality containers specifically designed for water sports. Keep 100% charged phone, keys, license, cash, credit card, etc. in containers.
Bring Water and Dog Bowl: Depending on the length of time you're on the water, you might bring water bottles and a collapsible dog bowl.
Sunscreen: If your dog is light-skinned or has light hair he might need sunscreen and will you unless you don't mind getting a little tan or sunburn J
Potty Time and Towels: Before you hop in the car to leave, make sure to give your dog ample time to potty. Take extra towels so you catch most of water from getting on your seats.
Keeping these things in mind when you get ready to SUP, kayak or canoe with your dog will enable you to feel more confident. You'll have a better time and you'll know what to expect.
Hopefully these things help you and you have a wonderful time on the water with your dog.
Off to the water,
Kelley Stewart, CEO|Pet Sitter
sit-stay-play In-home pet sitting & more.LLC
Proudly serving Muncie, Yorktown, Anderson and Indianapolis, Indiana areas.
P.S. Feel free to leave a comment and tell us your favorite place to SUP, kayak or canoe with your dog. We have friends all over the United States and would be happy to share some great spots with our fans.
P.P.S. Places to rent SUP, kayaks and canoes near Muncie, Indiana
Indianapolis: Eagle Creek Outfitters at Eagle Creek State Park for SUP, kayak and canoe rentals
Daleville: Canoe Country for canoes, kayaks and tubes
Want to connect with fellow SUP'ers in Indianapolis? Check out this facebook page.