sit-stay-play In-home pet sitting & more.LLC offers pet care industry jobs to caring, compassionate and dependable individuals. Our company culture is relaxed in nature and generally pet care providers will be working on their own, establishing their own schedules relative to what our clients request. For individuals who can work on their own, manage their own schedule, be detail oriented and in general be a responsible pet care provider, this might be a great opportunity for you. If you're the type of person who needs to have a set schedule or a required amount of income per week, this isn't the job for you.
Jobs with us can be temporary or more lengthy in nature. Your ability to earn money is reflected by your commitment and work ethic as well as our pet care job openings. However, the more pet care job requests we have, the more opportunity you have to work.
Our service area covers roughly an 80 mile radius of Muncie, Indiana currently. Our long term goal is to have pet care providers in all Indiana counties and be the leader in the Indiana pet sitting and dog walking market.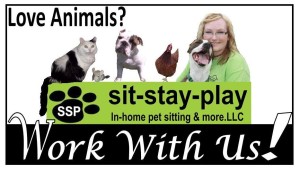 Pet Care Jobs And Duties
Pet Sitting Jobs

Duties vary job by job but in general, these are the things you can expect to be responsible for:

Being familiar with pets before you enter their home (via pet information forms).

Reviewing what jobs the clients want you to do and making sure house is secure when you arrive.

Bringing in mail/packages, feeding/watering pets.

Medicating pets if necessary.

Cleaning up vomit/pee/poop/hairballs/blood, cleaning up any messes make in the house.

Making sure yard is secure prior to pet going out to potty.

Communicating with the office after you finish the job so office can let client know how the visit went.

Cleaning crates or kennels if pets mess in them, maintaining a clean environment  in the home so the client doesn't come home to a mess.

Driving to and from the client home each visit, keeping a record of the date and time you enter and exit the client home (for your records as well as sit-stay-play).

Maintaining professional behavior while in client home (many have cameras), maintaining strict safety issues in regards to the jobs you do and the client homes and pets.

---

Overnight Pet Sitting Jobs

Overnight pet sitters would be responsible for driving to client home and staying overnight with the pets.

Overnights usually start between 9-11pm and end between 6-8am.

Sitter is paid to stay in the home the entire night.

Sitter is expected to provide all pet sitting duties the client requests.

Sitter is responsible for keeping an accurate record of date and time of entering and exiting the client home.

---

Dog Walking

Duties vary for each dog walking client. Some clients want their dogs walked fast, some only want you to walk their dog in their yard but in general, these are typical responsibilities for our dog walkers:

Being familiar with job request and requirement prior to accepting the job (via pet information form and sit-stay-play communication).

Keeping an accurate record of the date and time you enter and exit the home.

Checking to see that the dog collar/harness is firmly affixed prior to attaching the leash, making sure the leash is in good working order (we suggest  you use your own).

Making sure to continuously monitor the dog while walking (checking for bee stings, injuries, hot pavement, ice injuries).

Maintaining professional behavior while out walking the dog this includes picking up all poop piles and keeping the dog out of private yards.

Being cautious with stray dogs if the dog you're walking isn't good with other dogs.

---

Poop Scooping

Poop scoopers are responsible for cleaning up client yards/kennels/cages/litter boxes.

Each job will vary and depending on the job, you might need different supplies. In general these are the job duties:

Having your own poop scoopers, scrapers, rakes, gloves, cleaning supplies for equipment and pet waste containers. Providing a thorough cleaning of the area you're working on (loose stool is almost impossible to clean up 100% but we expect you to get the majority of it).

Maintaining clean scooping supplies (to prevent cross contamination), informing sit-stay-play if you see worms or other objects in the pet waste (sit-stay-play will let client know).

Making sure to not track pet waste from your shoes to other parts of client property.

---

Farm Sitting

Farm sitting jobs vary and can be very labor intensive. We expect farm sitters to have a basic understanding of farm animal husbandry including how to handle the animals, how to feed, signs of injury or stress.

Farm sitting duties will vary but in general these are typical duties:

Making sure property/farm is secure and safe prior to you entering the property.

Being familiar with the job, animals and job duties before you accept the job.

Providing the job requests as the client dictates in their Service Request Form.

Keeping an accurate record of the date and time you enter and exit the client property.

Checking areas where animals will be in to make sure they're safe and secure.

Communicating with sit-stay-play if there's any problems or questions.

---

Pet Taxi

Pet taxi providers are required to have a vehicle in their own name with full coverage on their vehicle.

Pet taxi jobs are routinely booked by people with Service and Therapy Dogs and may require loading and unloading assistance from the driver.

Clients will schedule pick up's and drop off's from groomers and pet day cares and usually have a time constraint.

Pet taxi drivers should be able to have crates of various sizes in their car and have working seat belts to secure pets with.

We request the drivers make sure all pets are properly restrained either with a pet seat belt or in a crate for their safety.

---

Pet Photographers

Most of the pictures on our website and marketing material are pictures of our clients. We'd love to have a person with photography skills to join our team and help us take better pictures PLUS be on hand when we have events. Pictures with the Easter bunny and Santa are popular events we host and having a photographer on staff would help make the events better for us, clients and the public.

---

Bloggers

Bloggers are always needed, even guest bloggers, to write on popular pet-related topics and topics relevant to our client base. Bloggers are paid by the article. Affiliate links and link exchange is possible, if you're interested in this, please contact us.

---

Event Assistants

Event assistant duties vary depending on the event but in general these are the duties:

Loading/unloading vehicles, helping to set up display booth/table, helping to collect names from attendees (at pet nail trim events), talking to potential clients, handing out marketing material, building relationships with the public, helping promote our brand, helping us in local parades by walking a dog or wearing a costume and passing out material.

---

Marketing Assistants

Marketing assistants will generally be our hands and feet for getting our marketing material in the community. We have routes in the Muncie area we place advertising material in and our marketing assistants are responsible for posting new flyers.

Marketing assistant jobs are needing filled in Anderson, Albany, Gaston, Hartford City, New Castle, Chesterfield, Daleville, Pendleton, Noblesville and Indianapolis areas.

We provide all the material and schedules for posting, marketing assistants would be responsible for following the scheduling and making sure to pick up new materials.

---
If interested in filling out an application for one of these jobs, please fill out the contact us form and we'll contact you.
Thank you,
Kelley Stewart, CEO|Pet Sitter
sit-stay-play In-home pet sitting & more.LLC