Congratulations on adopting one of Action for Animals' feline friends from Muncie PetSmart. We're so happy that one of our foster babies (or mommas) found a home with you and to say thank you for adopting, we're giving you two free cat sitting visits valued at $40.
These visits can be used if you have an emergency that calls you away from home, we can feed your new kitty and make sure s/he has clean water (and clean out the litter box, of course). You can book a cat sitting visit for times where you go on vacation or out of town for the weekend. The reasons vary from person to person but having a reliable and trustworthy cat sitter will make your world better – and your cat happier!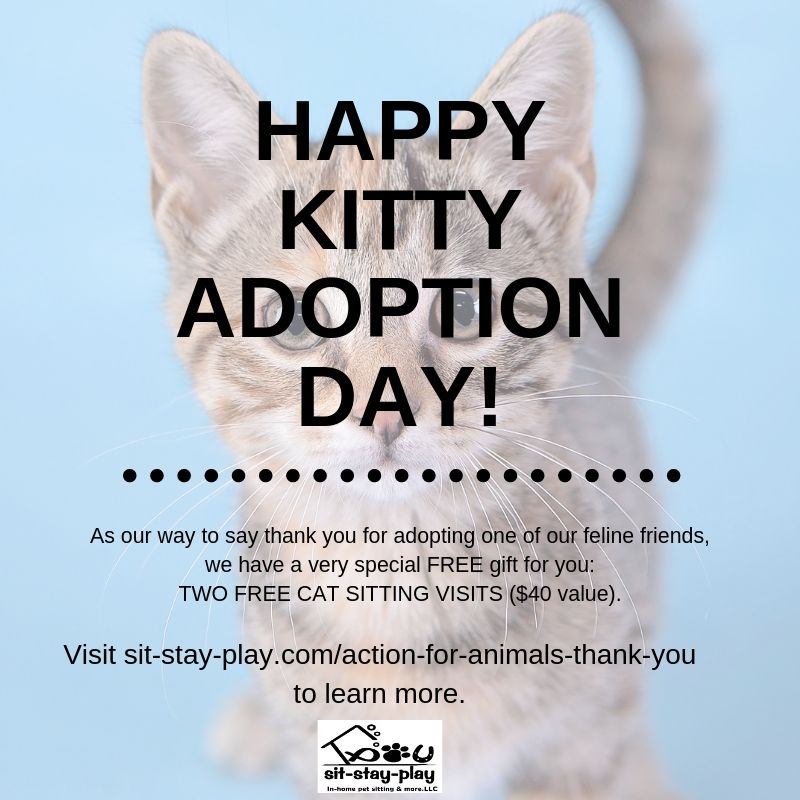 How to Book Your Free Cat Sitting Visits 
Ready to learn more or want to go ahead and set up your free cat sitting visits? Great! It's super easy to schedule. Just go to this link and fill out the online form. We will email you back within 48 hours. However, if you need visits to start within 3 days, please call us at 765-744-5688 so we can be sure to get you scheduled quickly.
Details of This Offer
This free offer is only valid for people that have adopted kitties with from Action for Animals at the Muncie PetSmart.
At the time of the services, the client must still have their adopted kitty in their home. We can take care of ALL the pets in the home during the cat sitting visit (farm animals, however, may incur an additional farm sitting fee).
This free gift is valid for 6 months from the time of adoption. So each free gift will have a different expiration date depending on when the cat is adopted.
Adopter must show adoption paperwork at the consultation.
A consultation should be scheduled before services are booked. At the consultation, we'll go over pet care forms, get directions on what tasks we'll need to do, pick up two house keys and confirm services. Consults usually take 30-45 minutes.
Did You Know?
Did you know that sit-stay-play has been caring for pets since 2008?
Did you know that we have hundreds of happy clients including: dogs, cats, hamsters, parrots, macaws, fish, turtles, iguanas, horses, ponies, alpacas, hens, roosters, pigs, cows, goats, gerbils, chinchillas and even sugar gliders?
Did you know that we have a large service area that covers Muncie, Yorktown, New Castle, Anderson, Albany, Hartford City and most areas in between?
Did you know that our services include: pet sitting, dog walking, overnight pet care, pet taxi, in-home pet nail trims, basic obedience training, farm sitting services, hotel pet care and even wedding pet care? You can see more about these services at this link.
Did you know that professional pet sitting is a great alternative to boarding and that we make it easy for people that have multiple pets to travel and get away from home on occasion?
Did you know that we have Facebook, Instagram and Twitter and we'd love to connect with you?
On behalf of myself and Action for Animals, thanks again for adopting and we look forward to helping you with your cat sitting services and reconnecting with our foster kittens and their momma.
If you have any questions about this free offer or anything else, please fill out this form and we'll be in touch as soon as possible.
Thank you again for adopting!
Kelley Stewart, CEO|Pet Sitter
sit-stay-play In-home pet sitting & more.LLC
"Your pet sitting, dog walking, poop scooping specialists!"