About Us – Muncie Pet Sitting, Yorktown Dog Walking
Welcome to our 'About Us' page. Whether you're looking for pet sitting in Muncie, cat sitting in Chesterfield or dog walking in Yorktown, you're in the right place.
Potential clients can learn a little more about Kelley Stewart, the brains behind sit-stay-play, and learn a little more about the company.

About Kelley Stewart, CEO|Founder of sit-stay-play In-home pet sitting & more.LLC
Kelley Stewart is a Muncie native. She's an alum of International Business College, Ball State University and PJ's Cosmetology School. In her spare time, you can find Kelley stand up paddle boarding, hiking or skateboarding with Berkley, her devoted pit bull, working in her yard or spending time with her granddaughter's. She's an avid traveler and likes to make the most of life and suck the life out of each day. Kelley's an animal rescuer, pit bull advocate and mom to a 2-legged Chihuahua.

In 2017 she became a certified RedRover Responder and has plans to further her education in natural disaster/emergency training.

Her mission in life include helping people and animals, which she does successfully in her role as CEO and pet sitter at sit-stay-play In-home pet sitting & more.LLC.

She's a passionate entrepreneur and has watched her company evolve and grow into a very successful business since its' inception in 2008.

The sky's the limit and nothing is impossible in Kelley's mind; with enough work and creative thinking, almost anything can be accomplished.
About Us – The Future Looks Bright for sit-stay-play In-home pet sitting & more.LLC

There's no shortage of dogs, cats and other pets in the United States, or in Muncie, Indiana. This is great for us because as long as we continue to provide excellent care, our clients continue to book and refer their friends to us.
As far as expansion, that's obviously a goal. However, maintaining our current level of care is most important. Growing too big too fast is not something I want to do and staying ahead of the game, watching our numbers and acting preemptively is important.
I was watching one of Marie Forleo's videos recently and Seth Godin was her guest. He talked about Jeopardy and about the difference of the button pushers. There's two types: fast pushers or slow pushers. Push fast despite knowing the answer. Push slow and miss your chance.
I'm a fast pusher most of the time. I jump before knowing exactly how to execute a solution or before I know the answer completely.
If you need a little motivation, kick in the pants or just want to read exactly what Seth Godin said, have a look at this video…Mario Forleo will blow your mind and Seth, well, Seth will cause you to totally reevaluate yourself if you allow it. Both are mentors of mine and I encourage you to check em out.
Please browse around our site and go here to send a message.  We're flexible and are willing to help you be the best pet parent you can.
About Us – Philanthropy in the Muncie Community

Philanthropy is important. Whether it's providing free pet nail trims, free or reduced pet sitting fees, help with spay and neuter surgeries or veterinary care or giving free children's hair cuts, I love being able to help fellow humans (and animals). Furthermore, I like to give other people the opportunity to give back. In partnering with other people more can be accomplished. By giving people easy ways to help others in our community that helps us all be better people.
About Us – Where We Work
Our service area includes:
Muncie, Yorktown, Daleville, Albany  | Delaware County, Indiana
Anderson, Chesterfield, Pendleton, Lapel | Madison County, Indiana
Fishers, Noblesville, Carmel | Hamilton County
Indianapolis, Broad Ripple | Marion County
New Castle, Middletown | Henry County, Indiana
Dunkirk | Jay County, Indiana
Contact us if your city or county is not listed and we'll see if we can help you.
We're Hiring!
Our goal is to provide care in all of east central Indiana and are aggressively seeking people to join our team. Visit this link to learn more about these employment opportunities.
Final Thoughts



My life is enriched because of the people and pets I meet in this business. Countless little blessings come my way including puppy kisses and kitty purrs.  Even the occasional horse lick and a nuzzle from a Jersey calf is enough to make me want to get out of bed each day! I get the chance to help pet parents be the best they can by providing safe, dependable care to their extended 'family' – who else can say that about their job?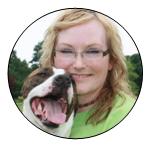 As a result of my dog training and handling experience, I see a dog go from pulling on the leash to walking politely in just a matter of minutes. I get the pleasure of working with shy, timid dogs and see them come out of their shells.
I'm always on guard and watching for signs of animal neglect and abuse. I allow myself to be a voice for the voiceless and an easy ear to talk to when someone has questions or concerns.
Should you need any type of pet care services, I'd appreciate the opportunity. Read our REVIEWS!
Thanks for reading about us,

Kelley Stewart, CEO|Pet Sitter
sit-stay-play In-home pet sitting & more.LLC