About Us – Sit-Stay-Play Muncie Pet Sitting, Yorktown Dog Walking
"How I went from typing estate planning documents to helping dog moms and dads have more time and peace of mind."
The journey here wasn't always easy and the entrepreneur bug bit me when I was 16 when I started at McDonald's. When I wasn't flipping burgers I was out babysitting and trying to earn a little extra cash. The side-hustles never stopped.
I did my time scooping poop (and still offer it as a service today, imagine that!), cleaning houses and detailing cars.
I knew what it was like to barely make ends meet and trying to do well in my college endeavors at Ivy Tech and Ball State.
However, those hours spent at school furthering my education and getting degrees was rewarding. But it also came with a cost. Some of you may be feeling the tug at your heart strings because you're trying to have a better life. You sacrifice time with your loved ones to work more, study more. The struggle was real for me and it may be real to you as well.
"After a devastating house fire and being forced to board my dogs for months and keep my cats in less-than great boarding situations, I decided to start my own pet sitting business."
In 2008, my daughter woke up to a fire that was blazing through her wall.  Imagine my shock and fear when she woke me up, yelling, "Mom, there's a fire!!!" I never want to relive that type of experience and my heart goes out to anyone dealing with a house fire or the deadly wildfires in California. Luckily, we all made it out safely but the following months consisted of a lot of healing, rebuilding, turmoil, upheaval and new beginnings.
sit-stay-play In-home pet sitting & more.LLC was one of the new beginnings.
Had I never had that house fire I probably wouldn't have known about the lack of pet care options in Muncie.
I wouldn't have known that some insurance companies will pay for boarding of pets after a house fire and displacement.
I wouldn't have known that pet sitting and dog walking services can help fire victims and there was a need for that type of service.
And I wouldn't have known that thousands of pet sitting companies all over the world help people like me everyday. They work in careers they love and feel good about.
Out of those ashes, I launched my business.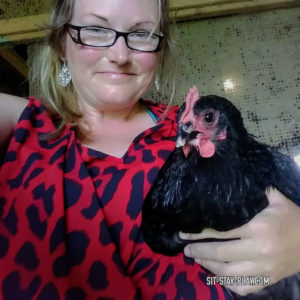 Yes, that's a hen. And I'm wearing a silk red sleeveless blouse that I forgot to change out of before driving to their farm 🙁 Bummer.
I take care of her and her other hens and chicky friends when their mom and dad go on vacation.
Other pets and animals like cows, goats, rabbits, alpacas, iguanas, bird, fish and dogs and cats also spend time with me when their people are working, traveling or dealing with out-of-state emergencies/weddings/funerals/moves, etc.
I have a great team of people that also helps when I need it. Believe it or not, I can only be in one place at a time and until I'm cloned, I'll have to utilize other people to make my business successful 🙂
"I discovered that my love for helping people includes helping their pets."
The Future Looks Bright Because There's No Shortage of Pets or Animal Lovers

We have a lot of clients that are first-time pet parents and they need help with mid-day walks or overnight pet care. Sometimes they really don't know what they need but they reach out and inquire about our services.
We have the luxury of being able to create customized pet care plans for each one of our clients, wish is great for many different reasons.
Are you wondering if pet sitting might be a good option for you? Call us at 765-744-5688 and we'll talk to you and help you figure out what's best in your situation.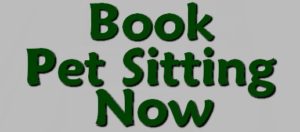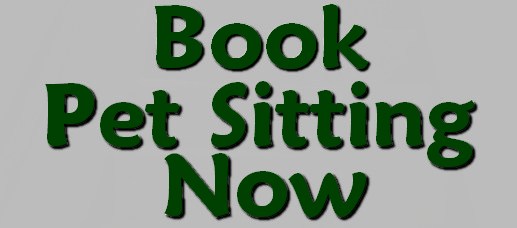 "The sky's the limit. We're only limited by our own thinking and behavior. I'm ready to soar, how about you?"
As far as expanding my business, that's obviously one of my goals.
However, I want to be sure that we can handle what clients we have now before growing and I never want to sacrifice quality.
Growing too big too fast doesn't help me or our clients. Because of this, I'm pretty selective on what I take on, what projects and events I host and how many clients I book.
Staying ahead of the curve, watching the numbers and acting preemptively helps make us successful.
"We give back to our community."
I had plenty of help while I was a single mom, working my tail off. Now I'm in the place to give back and philanthropy is important.
Whether it's providing free pet nail trims for senior pet parents, low-cost pet nail trims at our events, free or reduced pet sitting fees, collecting pet supplies and aluminum cans to help pay for vet care, it all makes a difference.
By presenting opportunities for our clients, friends and family to help others, we can all have a part in creating happiness, don't you agree?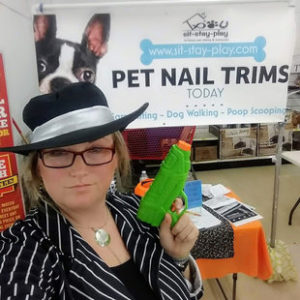 "I wouldn't trade what I do for anything – I think I have the best job in the world and I'm ready to help you with your pet care needs."
Our pet care service area includes:
Muncie, Yorktown, Daleville, Albany  | Delaware County, Indiana
Anderson, Chesterfield, Pendleton, Lapel | Madison County, Indiana
Fishers, Noblesville, Carmel | Hamilton County
Indianapolis, Broad Ripple | Marion County
New Castle, Middletown | Henry County, Indiana
Dunkirk | Jay County, Indiana
Contact us if your city or county is not listed and we'll see if we can help you.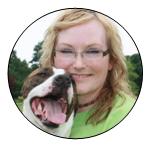 Should you need any type of pet care services, I'd appreciate the opportunity to help.
Thanks for reading about me and my business,

Kelley Stewart, CEO|Pet Sitter
sit-stay-play In-home pet sitting & more.LLC
P.S. Want to request pet care services or learn more? Click here.