Good news: Our friends at Happy Dogs asked us to offer our pet taxi Muncie services to their clients, and we said yes!
Pet Taxi Muncie – Pet Transportation
If you've depended on Happy Dogs to transport your dog to and/or from their facility to your home, or vice versa, we can now help you!
Happy Dogs clients will get a special rate when scheduling pet taxi services to and/or from their home. To schedule, just click here and we'll contact you to schedule a brief consultation prior to scheduling the pet taxi.
Local transports – contact us for pricing
*Please have current vaccination records in a folder for us to keep with your pet during transport. We'll return them when we drop off your pet or will arrange another time to get them back if it's for a pick-up only.*
If you won't be home when we pick up or return your dog, a consultation will need to be scheduled so we can meet you, meet your dog, see where doggy supplies and vaccination records are at home, see where doggy will stay (if you won't be home when we return him), get house keys if needed, finish paperwork and collect payment.
If you will be home then the consultation won't need to be scheduled. However, we encourage you to set up a consult so you can meet our staff and so you'll know who your doggy will be riding with.
Out of state transport – contact us for pricing and availability
Please have all veterinarian records, current food and medicine instructions, health certifications and all supplies ready when we arrive to pick up the pet
Our pet taxi Muncie services are available to anyone, not just Happy Dogs clients, so if you need help, contact us! Pet parents can ride with their pet or our staff can pick them up, stay with them and then return them home.

All of our drivers have clean driving records, clean background checks and dependable transportation. We're safe drivers and will keep your pet secure during transport!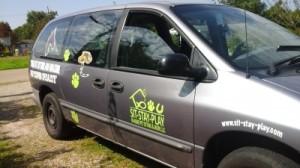 Here are some examples of situations where our Pet Taxi Muncie services have been used:
We took a dog to his grooming appointment at PetSmart because his mom couldn't take time off work;
We transported a blind woman and her helper dog to the veterinarian;
We picked up one of our client's dogs from Happy, Clean and Smart once they returned home from vacation;
We took a cat and dog to the vet because their older pet parent didn't have the strength to lift them or the ability to drive; and
We went to the Muncie Animal Shelter with a family to pick up their new dog. They didn't have a vehicle.
We transported a Burmese cat from Tennessee to Pennsylvania.
Most regular taxi companies and public transit companies don't allow pets in their taxi's or buses which can make it difficult for people who depend on this type of service.
Pet Taxi Muncie by Sit-Stay-Play helps fill this gap.
Not only do we offer pet taxi services, but we also provide pet sitting and dog walking.
You might be interested in these services at some point so please keep our information handy.
Thank you,
Kelley Stewart, CEO|Pet Sitter
sit-stay-play In-home pet sitting & more.LLC
P.S. Our pet taxi services are offered in Muncie, Yorktown, Anderson and Indianapolis areas!