Need us to come to your house and trim your pet's nails – we can do that – and here's a great deal just for you!
It's Friday, March 20 and I just found out that we now have confirmed coronavirus cases in Muncie and there are over 50 in Indianapolis!! I've been stressing out but hearing this today has made me buckle down and focus on what I can and not panic about the things I can't control.
So here's a special I come up with for our clients that need in-home pet nail trims.
When you get this offer you're helping me keep my doors open.
As you might imagine, I have very little income right now due to all the trip cancellations and our clients having to pause their regular services.
So I'm pulling out all the stops and making my services available at a discounted rate for the time being.
It's really simple; buy 5 services, get 1 free. When you purchase these in bulk you'll save $15.
In order for me to come into your home, there's some safety protocols I've put into place to make sure we're all safe during this coronavirus pandemic, even though things a slowly beginning to open back up.

First of all, if anyone in the home has a fever, cough or other sickness, we'll have to reschedule, and all of us in the home will need to wear a mask. We can also do the visit outside, which is preferable at this point.

Second, I won't be touching anything in your home other than your pet and visiting will be kept to a minimum right now.

Third, while I'm in your home we'll need to be quiet and not talk while we're close and I'm trimming your pet's nails. This will help your pet relax and will minimize exposure.

And lastly, in order for me to trim your pet's nails we'll have to have adequate light in the room.

If we can sit in a room with the curtains open and have natural light, that would be perfect – or better yet – let's do it outside.

Also, we can only do this in homes that are smoke-free. I'm allergic to cigarette smoke and can't be around it unfortunately.

In-home pet nail trims are great for older pets, pets with medical or behavior issues and for people that aren't able to bring their pet(s) in to our events.
Here's how to pay for and set up your in-home pet nail trims:
#1 – Click on this link which will take you to a page where you can request services;
#2 – Type in promo code space, type NAILS;
#3 – You'll receive an email to set up your first visit and you can pay at that time;
#4 – When you want to schedule your nail trims just go to this link to request services;
#5 – If you have a second pet in the home you'd like me to do, the rate will be $8 extra for the other pet (regularly $10).
And a little more information about this offer…
This offer is good for pet parents in Muncie, Yorktown, Anderson and most surrounding areas however, if you live outside of our main service area there will be a small gas/travel fee per visit. 
You can look at the map below and see we have a black line indicating our main service area, (south of SR 28/35, east of Nebo Rd, west of SR 35 and north of SR 67). 
We'll let you know what the additional cost when we set up your pet nail trim.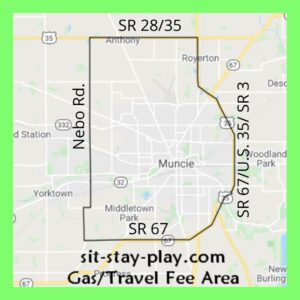 sit-stay-play.com's main service area is INSIDE THE black bordered area. Areas outside of that may incur a small gas/travel fee.
This pet nail trim offer won't last long so buy now if you're able.
Thank you and stay safe out there,
Kelley Stewart | CEO, Pet Sitter
sit-stay-play In-home pet sitting & more.LLC
"Your pet sitting, dog walking, poop scooping specialists!"
P.S. Be sure to check these other specials!
Unlimited Pet Nail Trims for 1 Year