Dealing with dog aggressive dogs is a very delicate matter and shouldn't be attempted unless you are confident in your dog handling skills, your ability to read dog body language and your overall common sense.
Before we agree to take care of an aggressive dog, we find out why the dog is aggressive and what's he's aggressive to. If the dog has displayed human aggression, we won't provide services. If the dog has aggression towards other dogs or small animals, we discuss the situation with the potential client.
How A Muncie Pet Sitter Cares For Aggressive Dogs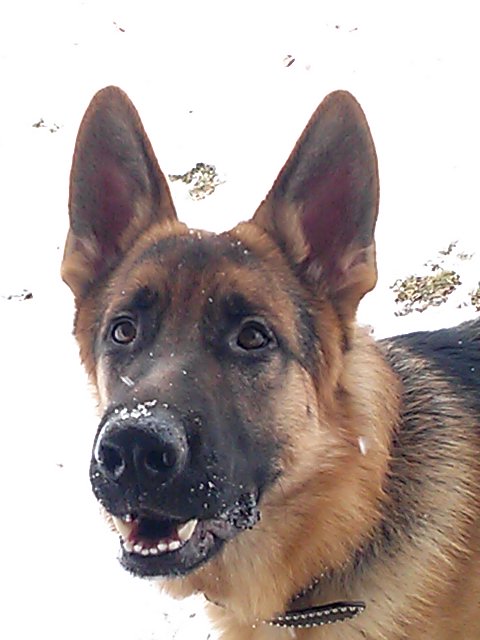 One of our recent clients has 5 dogs who all have issues. Issues with other dogs. Issues with squirrels. Issues with birds. Issues.
Besides their propensity for aggression towards other dogs and small animals, they're awesome, active, healthy and intelligent.
These aren't couch potato dogs and require a caregiver that is knowledgeable and one who's able to follow directions from the dog's owner. Pushovers aren't allowed. Pushovers would get trampled by these dogs and the consequences could be disastrous. There's only room for one alpha and the human must be it.
So, you might be wondering how do I deal with aggressive dogs. I do it very carefully.
Aggressive Dogs = Handle With Care
Each dog is handled separately. Is dog is fed separately. There cannot be ANY intermingling of canines or blood and death could occur. Seriously. That's not a joke.
Luckily the owner knows his dogs so well and has their routine down so precisely that all I need to do is follow his meticulous directions.
Routine Is Key With Aggressive Dogs

Following the client's routine causes me to stop and second guess myself at every step.
I have an inner dialogue going the entire time I'm working. It causes me to be on my toes and to be in the moment. Every moment.
Some of the questions I ask myself include…Did I put the alfalfa sprout powder in all of their food bowls? Did I pull out the water pails so they don't spill them during exercise time? Did I double lock EACH kennel? Did I scoop the poop from each kennel? Did I shut off the light? Or turn on the light? I refer back to my notes repeatedly and never just assume I should do something my way.
Consultations With Owners Of Aggressive Dogs Or Ones With 'Issues'
Pet owners of dogs like this usually have their T's crossed and i's dotted when it comes to them hiring a pet sitter. They know what they want. They get a feel for the person immediately. During the consultation, if I come across like I'm scared or unsure of taking care of the dogs, you can bet that the potential client will be looking for another pet care provider. If the dogs run me over and I can't handle myself appropriately with them, the potential client is going to find someone else.
This is similar to how all of our initial consultations go. Potential clients are making judgments and deciding if they want to go with our company from the minute we walk up to their house. Clients of dogs 'with issues' usually have life and limb at stake and normally more particular, which is completely understandable
So I passed the consultation with flying colors–YIPPEE!– and have been on the job for a few days now. My text updates to the client have been received with joy and he's resting easy knowing his dogs are in capable hands. The dogs are warming up to me and I can see their individual personalities coming out now. Some want love and attention, some could care less. Some give me the stink eye when I go to get the food bowl, some look at me as if to say, "Can I have some more?"
Book Your Pet Sitting Now
Our pet sitters at sit-stay-play are competent and capable to handle most any situation. Should you find yourself needing a pet sitter for your dog, cat or other pet, please contact us and we'll talk about your needs and what you're looking for. We're here to help and aren't turned off by aggressive dogs, as long as they're not human aggressive. We also love the couch potato types and all dogs in between.
Click this link to contact us now.
Looking forward to meeting you,
Kelley Stewart, CEO|Pet Sitter
sit-stay-play In-home pet sitting & more.LLC
"Your pet sitting, dog walking, poop scooping specialists!"
Serving Muncie, Yorktown, Anderson, New Castle, Pendleton, Morse Lake, Fishers, Noblesville, Carmel, Indianapolis and Brownsburg
#MunciePetSitter