Black Friday is here and we've got two sweet deals for you. Pay for mid-day dog walking or pet sitting visits today through PayPal and you'll get $2 off each visit! Be sure to read the terms and conditions below before you get in on this deal.
Black Friday Mid-Day Dog Walking Offer
Who Can Use Mid-Day Dog Walks?*
People that work 12 hour shifts and just need their dogs let out for a quick potty break
People that work 8-5 and need their dogs let out at lunch time
Hospital workers that don't have time to run all the way home at lunch
People that just adopted a new dog or puppy
and anyone that just wants to reclaim their lunch break instead of running home to let their dog out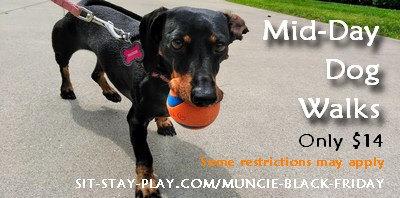 Black Friday Pet Sitting Offer
Who Can Use This Pet Sitting Offer?*
Pet sitting is a great alternative to boarding and many people find it convenient for them and their pet(s).
People that need a reliable person to make sure their pets are cared for while they go on vacation
People that don't want to kennel their dog
People that have a lot of animals and finding someone reliable has been difficult
People that have overweight pets and they have a hard time getting them in/out of the car
People that have senior pets or dogs with behavior issues
People that want their dog to stay home and not be around other dogs
Pet sitting visits can be scheduled morning, afternoon and evening and work great for people going on vacation.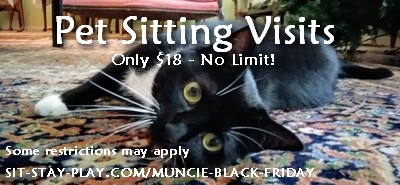 We hope you take advantage of these Black Friday deals, they're good for current clients as well as new ones. Just be sure to pay for these through the PayPal link then Request Services to get your visits scheduled.
Have a wonderful shopping day and be sure to tell your friends and family about us,
Kelley Stewart, CEO|Pet Sitter
sit-stay-play In-home pet sitting & more.LLC
"Your pet sitting, dog walking, poop scooping specialists!"
*Terms and Conditions:

These two Black Friday offers are only available in Muncie. Pet sitting and dog walks must be paid through our PayPal link by 11:59pm 11/23/18. This dog walking offer is only available from 11a-2pm Monday-Friday. These offers cannot be combined with other offers and are not redeemable for cash. These discounted visits can be scheduled at a later date but must be paid for today. New clients must get their in-home consultation scheduled before any services can be booked. All pets that are in the client's home must belong to the client. All pets that we're to care for must be healthy and flea free, sit-stay-play reserves the right to not perform services for any reason and will refund any portion not used.