Yorktown residents in Woodland Trails, Deerbrook Estates, Deerbrook Village, Evergreen West and other communities that attend their neighborhood Christmas party December 2, 2014 at Artist Within in Muncie will receive a complimentary pet service from us.
We're inviting the families that receive their complimentary pet service to take advantage of our offer.
Sit-Stay-Play has dozens of happy clients in the communities above, are you ready to try something different with your pets?
Best Times To Use Your Free Service
When you know you'll be working longer than normal;
When you have dinner plans immediately after work and you don't want to run home first;
When you are sick and don't feel like walking your dog; and
When you don't want to clean up your yard, call us for waste removal.
These are just some examples of when many of our clients use our services.
Your reasons might be different than those above and that's fine, we just wanted to give you reasons why people use a pet sitter, dog walker or poop scooper.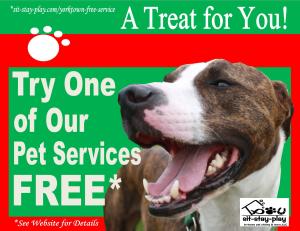 The details of this complimentary pet service are as follows:
New clients only
Services available include pet sitting, dog walking and poop scooping
Recipient must schedule a free consultation prior to booking pet care services
Recipient must follow our policies and procedures in regards to forms, keys and cancellation policy
Gas fee will apply to anyone outside of Muncie
This free offer is valid from January 3, 2015 thru April 10, 2015
This offer is valid for 3 pets from the same household
We look forward to scheduling your free pet care service!
Thank you and have a Merry Christmas,
Kelley Stewart, CEO|Pet Sitter
sit-stay-play In-home pet sitting & more.LLC