Low-cost pet nail trims will be offered this Saturday, Feb. 27 at Muncie Rural King, from 2:00-4:00pm. Cost is $5.00 per pet. Check out the helpful tips we've included below that can make their pet nail trim successful!
Tips To Make Our Pet Nail Trims Successful
Relax. Relax as you're putting your dog, puppy or other pet in the car, if you're overly anxious, they will be too;
Make sure dog or puppy has pottied before you bring them in the store for their pet nail trims;
Make sure dog or puppy collar fits properly and will not slip over their head;
Keep your dog or puppy on leash while they're in the store;
Make sure your dog or puppy is being handled by an adult;
Keep the leash short – don't let your dog or puppy run up to another dog without asking the other person first;
No terrorizing or harassment wanted! Work with your dog so he's nice to other dogs and people, keep them under control at all times;
Once signed in, you can walk around a little especially if your dog is barking or causing other dogs to bark around the nail trim area;
A bored pup = trouble. Bring a tug toy or something to entertain your dog just in case there's other people signed up before you;
Once your dog or puppy is on the table, relax. Your dog can sense if you're scared or tense and that will cause them to be scared or tense;
If we cut into the quick (the blood vessel) accidentally and cut a nail too short, it will bleed. Relax and don't panic. Your dog will be fine. Yes, this can be painful and we try our best not to cut them short but it does happen occasionally, especially if your dog has severely overgrown nails, the hair is long on the feet or he is squirming around. We'll apply styptic powder and proceed;
Please clean up any messes your pet makes while in Rural King. We have poop bags on our table, grab one if you need it;
Bring $5 cash or a check. Checks will require proper identification so bring your valid driver's license as well; and
If you bring a cat or animal beside a dog or cat, bring them in a carrier so they can't escape while you're waiting.
If you have any questions, contact us at this link and we'll be in touch within 48 hours.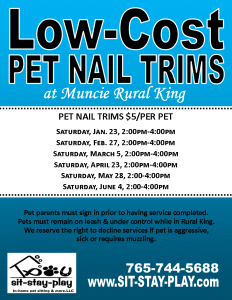 Interested In Hosting Your Own Pet Nail Trim Event?
Awesome! We'd love to talk to you about this. If you live in an apartment community or other area in Muncie, Anderson or Indianapolis and there's lots of pets, the pet parents might be happy to have us come to them. Contact us soon so we can chat!
Thank you,
Kelley Stewart, CEO|Pet Sitter
sit-stay-play In-home pet sitting & more.LLC