National Guard members in the Muncie area often contact us for pet care services when they have weekend drill at Camp Atterbury and other locations.
Snowstorm Emergency
During a recent snow storm, she was called for duty in Madison County, Indiana. While she rode around in a humvee rescuing snowed in people and assisting the sheriff and fire department. I was took care of her dog, Battle.
Getting to this National Guard pet sitting client was an adventure, to say the least. Trust me, plenty of curse words flew through the air because I kept getting stuck. All I can say is, "Thank goodness for 4-wheel drive!"
Traipsing through waist high snow drifts and parking blocks away is par for the course during snow storms like that. Luckily, I made it to her house 3 times per day but had emergency plans in my mind on what I'd do if the heat went out or the weather got worse.
However, the power stayed on and Battle stayed nice and toasty inside while his momma was out helping Indiana folks and other National Guard members.
Once Battle's mom was finished with her military duties, she happily returned home to a dog that missed her to pieces and gave her lots of love.
National Guard Pet Sitting 
Pet sitting is a great alternative to boarding. However, boarding might be a necessary option if you'll be on deployment for a long time. We can recommend great boarding options if you're in the Muncie area but if you'd like to try pet sitting, dog walking or other pet care services we provide, please contact us.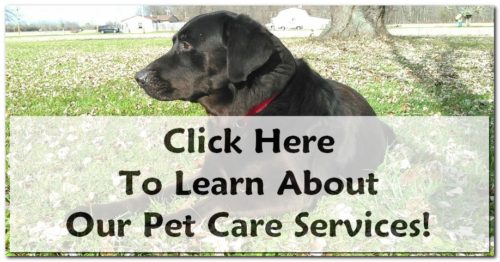 We have hundreds of happy clients from all walks of life: from military to college students; to farmers and professionals. Here's three articles highlighting the vast differences of our clientele:
Senior citizen seeks help raising a puppy
Master degree student needs help with mid-day dog walks
Small business owner pet sitting spotlight
Our pet care services are affordable and life-saving to many people and we work all over East Central.
Looking forward to meeting you,
Kelley Stewart, CEO|Pet Sitter
sit-stay-play In-home pet sitting & more.LLC
P.S. If you're thinking about enlisting in the military, think about your pets. Who will watch them when you're gone? What happens if you get deployed for a year?