One look at this website and you may think that we only take care of inside dogs.
But that's not correct.
While the staple of our business does consist of inside dogs and cats, we do provide pet care to kenneled and farm dogs and even chickens, alpacas, sheep and cows.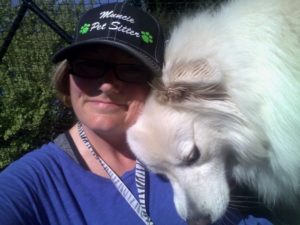 Please note that even if your pets are outside, it doesn't change our policies about requiring access to your home or minimum visit requirements (2 per day – typically morning and evening).
In case of an emergency we might need to get inside and we always need to wash our hands after caring for your dogs and other pets to minimize the spread of any communicable disease and for basic sanitary reasons.
It's important to note also that we do require two house keys. Why two house keys? Because one is kept in our key file and one stays with us while we're working with your pets. If something should happen to the primary sitter and a back-up needs to do the visits, having an extra key at the office allows us to proceed easily.
Your keys are safe, your home will be safe and your pets will most certainly be safe if we take care of them.
Have an Emergency?
Another good reason to get set up with sit-stay-play is if there's ever an emergency and you need to leave town relatively quickly, we'll already have your pet care forms and house keys so we can jump in and help.
If you've ever had to scramble at the last minute to find someone to watch your gang you can identify with the frustration and angst: we take that away and we'll have you covered.
Farm Dogs are Welcome Here!
We have hundreds of happy clients, both hooved, hairy, finned and hairless that we provide pet care for and we hope that you'll give us a try. We can provide testimonies and actual clients you can speak with if you'd like; just ask!
Pet parents and farmers, if you live in Muncie, Yorktown, Daleville, Chesterfield, Albany, Dunkirk, Middletown or areas closer to Indianapolis and have farm dogs or kenneled dogs, send us a message or call.

Request services or see pricing by clicking on this link. Fill out the short form and we'll call you to discuss your needs.
At the consultation, we'll complete pet care forms, meet your pet(s), finalize paperwork, collect 2 keys and complete payment. If you would like to talk to someone on the phone about your request, please call 765-744-5688.
Thank you,
Kelley Stewart, CEO|Pet Sitter
sit-stay-play In-home pet sitting & more.LLC
P.S. To learn more about what we do, read these articles, Farm Sitting Service Farm Animal Care and Farm Sitting Near Muncie