The story of SonnyRoo, the little 2-legged Chihuahua born without two front legs, is getting around!
Sonny's story was published in The Star Press, in Muncie, Indiana then was picked up by USA TODAY, then was shared in Tampa, Florida! Thanks to Tampa's paper, First Coast News newspaper for sharing the good news about our little guy.  Here's the link if you'd like to read the article.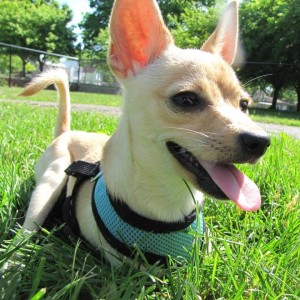 For those of you not familiar with Sonny and Maddie, here's a tidbit: backyard breeder, two-legged puppies, puppies dropped off on someone's porch, Sonny making his way to my house, his sister, Maddie, making her way to my friend's house…there's definitely more to it but in a nutshell, there it is.
Wheels for Sonny, the 2-Legged Chihuahua
So how's this little guy getting around? Hopping of course. But don't worry, we ordered his cart from Ruff Rollin' and he'll have his wheels soon. The next two weeks he'll be hopping along trying to keep up with my dogs and cats. He's one rambunctious little guy and these wheels are gonna change his life, for sure!
Stay tuned for more updates on Sonny and Maddie. And thanks again to all the donors and supporters!
Thanks for following,
Kelley Stewart (Sonny's mom)
sit-stay-play In-home pet sitting & more.LLC
"Your pet sitting, dog walking, poop scooping specialists!"
P.S. Did you know Sonny is now a Therapy Dog? He passed his Therapy Dog International testing June 2018 and will be starting his therapy dog work soon!